The Turkish General Staff has announced the start of the operation in Syria's Idlib, adding that reconnaissance activities are underway, posts for control of the ceasefire are being established.
"According to the agreements reached in Astana on the creation of a de-escalation zone in Idlib, the Turkish Armed Forces as one of the countries-guarantors [of the ceasefire in Syria] started a reconnaissance operation to establish posts for the monitoring of the ceasefire on October 8," the Turkish General Staff said in a statement obtained by Sputnik.
Later in the day, the Daily Sabah reported that Turkish military units have already crossed the border into Syria's Idlib province. The operation is said to enhance ceasefire regime, end violence and clashes, deliver humanitarian aid to those in need and ensure favorable conditions for the peaceful settlement of the ongoing conflict.
The deployement comes after Turkish President Recep Tayyip Erdogan said on Saturday that Ankara plans to deploy the country's soldiers to Syria's Idlib, where the Free Syrian Army rebel fighters backed by Ankara have launched an operation. A day later, Erdogan said that "if we didn't take our measures, bombs would fall on our cities."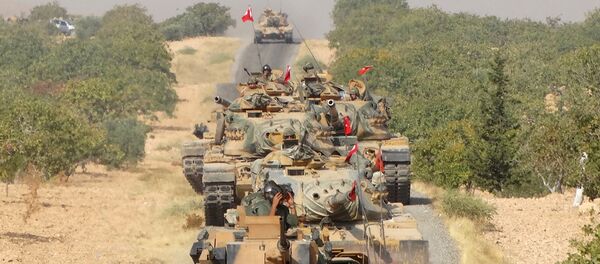 7 October 2017, 11:57 GMT
Currently, Idlib is mostly controlled by
Tahrir al-Sham
, a militant group led by al-Nusra Front terrorist group (banned in Russia), al-Qaeda's former Syrian affiliate. The group is not party to the
agreement on setting up a de-escalation zone in Idlib
agreed upon during the Syrian peace talks in Astana
Commenting on the Idlib operation on Sunday, the Turkish prime minister, Binali Yildirim, in his turn, said that Ankara's actions in Idlib are coordinated with Moscow. The Russian Defense Ministry hasn't yet commented on Turkey's plans for an operation in Idlib, however, Russian Foreign Minister Sergei Lavrov said earlier this week that Russia is ready to support armed groups fighting al-Nusra Front in Syria's Idlib de-escalation zone.
The Idlib operation is the second Turkish military operation on the Syrian soil. From August 2016 until March 2017, the Euphrates Shield campaign by the Turkish army conducted also with the FSA rebel fighters was conducted aiming to clear the Syrian border town of Jarablus and the surrounding area from Daesh terrorist group.