The UK Armed Forces are preparing for a potential war with North Korea, with officials instructed to draw up plans for how Britain would respond if war broke out with Pyongyang, anonymous sources have suggested to the mainstream media.
Details of the secret blueprints emerged after President Donald Trump warned "only one thing will work" when it comes to North Korea, as discussion and comprize "hasn't worked, agreements violated before the ink was dry, makings fools of negotiators."
​Due to fears rising tensions between Washington and Pyongyang could escalate into war, a number of contingency plans have been hatched.
Potential Plans
One option involves deploying HMS Queen Elizabeth, the UK's flagship aircraft carrier to the region before she has undergone flight trials, joining US warships off the Korean peninsula, prior to its entry-into-service date of 2020.
The 65,000-ton carrier could be escorted by Type-45 destroyers and Type-23 frigates, and equipped with at least 12 F-35B fighter jets.
Other strategies have parallels with the approach successfully employed in recapturing the Falkland Islands in 1982 — then, aircraft carrier HMS Illustrious was rushed into service early for the conflict with Argentina.
"In the Falklands we had to react to an event and HMS Illustrious was accelerated to respond. This was a reaction to protect British territory, however. In this case, the UK would be part of a united global coalition. We would see what support we could give," an anonymous Navy source said.
Laying Foundations
It is not the first time it has been suggested the UK should be, or indeed is, preparing for war with North Korea.
In August, the Royal United Services Institute has warned that US-led war with Pyongyang was "now a real possibility," and urged UK civil servants to immediately begin preparations for an outbreak of hostilities.
​​"If war did begin, the US President would be on the phone to Downing Street within an hour asking for support. Russia and China would demand an immediate United Nations Security Council meeting. The world's media would be dominated by round-the-clock coverage of the evolving crisis. The British Prime Minister would then have only a few hours, at most, to make clear how they stood on what would be one of the most momentous strategic shocks of the post-Cold War era," RUSI wrote.
RUSI added that unlike other "zero hour" situations, UK has previously faced, there would be virtually no time for consultation, discussion or deliberation before a position had to be taken —"the die would be cast on Day One."     
Moreover, speaking at the Conservative Party's annual conference, Defense Secretary Michael Fallon told attendees North Korea's "illegal testing" underlined just how irresponsible it would be to scrap Trident.
"It is all very well Jeremy Corbyn saying he would never use nuclear weapons but Manchester and London are closer to Pyongyang than Los Angeles," he said.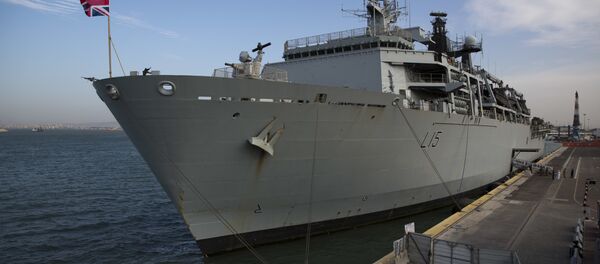 6 October 2017, 13:59 GMT
However a potential war began, the UK would undoubtedly be involved — the only question is how. If North Korea was responsible for initiating a conflict, the UK would likely have little choice but to provide military and logistical support to their closest ally — as would other NATO allies.
Moreover, previous governmental reports, such as a 2014 cross-party parliamentary investigation, indirectly imply such support is likely to involve the use of Trident, if the US itself inserts a "nuclear dimension" into the conflict.
​"The only way Britain is ever likely to use Trident is to give legitimacy to a US nuclear attack by participating in it. There are precedents for the USA using UK participation in this way…the principal value of the firing of UK cruise missiles as part of the larger US cruise missile attack on Baghdad was to help legitimize the use of such weapons against urban targets," the report said.
Conversely, if a conflict was perceived to have been US-initiated and/or provoked, it may be difficult to secure a parliamentary majority in favor of dispatching UK military assets to Korea — in that case, the UK's contribution may need to be purely diplomatic.