The Russian aircraft carried out 182 airstrikes against the positions of Daesh terrorists in Syria in the past 24 hours, the ministry said in a statement on Tuesday. A total of 70 Daesh terrorists, who were later identified as nationals of CIS states and Algeria, were eliminated in the Mayadin area, according to Russian Defense Ministry spokesman Maj. Gen. Igor Konashenkov.
The airstrikes were carried out after reconnaissance drones had discovered a large stronghold of Daesh terrorists on the eastern bank of the Euphrates river near the city of Mayadin. The terrorists had an artillery and tank projectiles depot, as well as a ramified network of underground tunnels there.
"A Daesh command post and three groups of terrorists who arrived in the area from the territory of Iraq as a reinforcement were destroyed. The elimination of 34 militants, the destruction of 5 SUVs with large-caliber weapons, as well as 2 vehicles with ammunition has been confirmed," Russian Konashenkov stated, commenting on airstrikes near the village of Hatla in the Deir ez-Zor province.
The spokesman went on by saying that a Russian Sukhoi Su-34 jet hit the same area 40 minutes later when Daesh militants arrived at the scene to evacuate wounded terrorists. As the result of that strike, more militants were eliminated.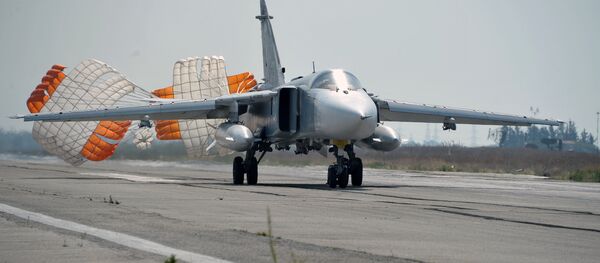 10 October 2017, 07:49 GMT
Earlier in the day, Konashenkov said that the US forces had reduced its anti-Daesh operation in Iraq as the Syria army was conducting an operation to liberate the Deir ez-Zor province from terrorists. The spokesman stressed that foreign mercenaries from Iraq
use armored vehicles and pickups
with weapons to provide daily replenishment to Daesh troops in the  Syrian city of Mayadin.
The city of Al Mayadin is the major Daesh stronghold in the neighboring province of Deir ez-Zor. Terrorists have used this hub to accumulate weapons and manpower to launch attacks on the cities of Palmyra and Deir ez-Zor.
It was reported earlier that the Syrian army was conducting an operation to encircle Daesh militants in Mayadin. Lately, Syrian forces have been on the offensive in the area around the city of Deir ez-Zor. Most militants have been pushed back several miles east and across the Euphrates. Daesh militants then started fleeing for Mayadin and further toward the northern outskirts of Deir ez-Zor.