Hollywood stars Gwyneth Paltrow and Angelina Jolie have added themselves to the long list of women accusing disgraced Hollywood producer Harvey Weinstein of sexual harassment.
According to Paltrow, as a 22-year-old actress she was summoned by Weinstein to his suite at the Peninsula Beverly Hills hotel for a meeting about a film adaptation of the Jane Austen novel, "Emma," which Weinstein was executive producing and in which she had the lead role. She says that at the end of the meeting, Weinstein placed his hands on her and suggested they head to the bedroom for massages.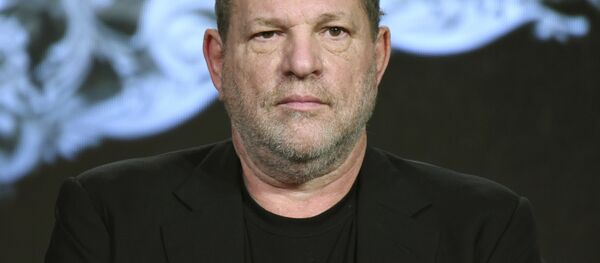 10 October 2017, 11:44 GMT
Paltrow told her then-boyfriend
Brad Pitt
about the incident, who confronted Weinstein about it. The film producer then warned her not to tell anybody else. Paltrow says she was "petrified" that he would fire her from the film.
According to Jolie, when promoting the movie "Playing by Heart" in 1998 Weinstein made an "unwanted advance" in a hotel room.
"I had a bad experience with Harvey Weinstein in my youth, and as a result, chose never to work with him again and warned others when they did," she told the New York Times, which last week published an expose alleging that for decades, Weinstein had paid off women who made allegations of sexual harassment against him.
Weinstein's Wife Speaks Out
On Tuesday, Weinstein's wife Georgina Chapman, an actress and fashion designer who co-founded the luxury Marchesa brand, announced that she is leaving the film producer.
"I have chosen to leave my husband. Caring for my young children is my first priority and I ask the media for privacy at this time," Chapman, who married him in 2007 and has two children with him, told People magazine.
© REUTERS / Danny Moloshok/File Photo /
Producer Harvey Weinstein and his estranged fashion designer wife Georgina Chapman, who announced she has left him amid the scandal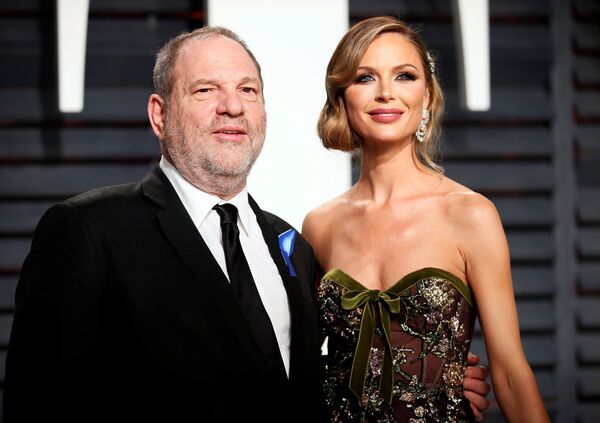 Producer Harvey Weinstein and his estranged fashion designer wife Georgina Chapman, who announced she has left him amid the scandal
©
REUTERS
/ Danny Moloshok/File Photo /
"My heart breaks for all the women who have suffered tremendous pain because of these unforgivable actions," she said.
With his brother Bob, Weinstein set up two entertainment companies Miramax in 1979 and the Weinstein Company in 2005. He has produced blockbuster movies such as Reservoir Dogs, Shakespeare in Love and Gangs of New York.
Since the revelations were published, he has been fired by the board of the Weinstein Company and his behavior has been condemned by Hollywood stars including Meryl Streep, George Clooney and Judi Dench. 
Clooney, who received his first big movie role from Weinstein in the 1996 action thriller From Dusk Till Dawn, said that he hadn't witnessed any harassment by Weinstein but had heard rumors "that certain actresses had slept with Harvey to get a role."
"It seemed like a way to smear the actresses and demean them by saying that they didn't get the jobs based on their talent, so I took those rumors with a grain of salt," the actor told the Daily Beast.
"But the other part of this, the part we're hearing now about eight women being paid off, I didn't hear anything about that and I don't know anyone that did. That's a whole other level and there's no way you can reconcile that. There's nothing to say except that it's indefensible."