In their appeal, made public Wednesday, McCain and Cardin stressed that it was "imperative" for the White House to "implement the [sanctions] law to its fullest extent and to uphold and protect American interests," particularly in light of the "ongoing threat that Russia poses to the US and our other allies."
McCain wrote the letter after Trump, who signed the sanctions bill in August, didn't clarify to the senators which specific entities within Russia's defense and intelligence services would be targeted by the senators' October 1 deadline. Moreover, although the new restrictions proposed sanctioning any individuals or entities who invest over $5 million in Russian gas pipeline construction projects, there has been no word about the US planning to penalize the major Western European energy companies invested in the Nord Stream-2 gas pipeline project with Gazprom.

11 October 2017, 07:18 GMT
Speaking to Radio Sputnik, Vladimir Jabarov, deputy chairman of the Foreign Affairs Committee of the Russian Senate, said that for McCain, the Russia sanctions issue has become an "obsession."
"To be honest, there are very few people among us paying attention to this – whether Trump is dragging his feet, or on the contrary, staying on schedule or even accelerating the introduction of sanctions," the senator admitted.
"We never asked the US to lift the sanctions, and never really feared them," Jabarav added. "The fact that McCain has some kind of obsession – that his main goal in life seems to be to impose sanctions against Russia –he should feel free to do so. But I don't think this will make life in America any better, or that Americans will be better off for it. It seems to me that the senators only complicate the domestic political situation in the US. They spend their time pushing Trump toward impeachment. Now, he will be accused of failing to fulfill the Congress's decision."
What's more, the senator noted that Washington's European allies aren't exactly thrilled about any further tightening of sanctions. "In my opinion, everyone is already so sick of these sanctions that they won't cause any special interest from America's European partners."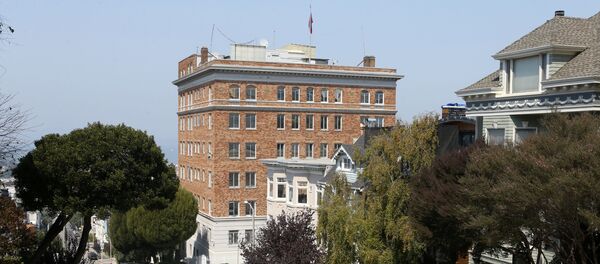 12 October 2017, 00:12 GMT
Georgy Fyodorov, head of the Moscow-based Center for Social and Political Studies, echoed Jabarov's remarks, and said that little more could be expected from McCain.
"McCain is an old Russophobe, someone who will continue to do everything he can to do us harm. This wing of the Republican Party is always more radically inclined when it comes to Russia. They consistently advocate increasing pressure on Moscow. And it's clear that they are dissatisfied with Trump for the fact that he, in their view, is too slow. But Trump is in a difficult situation; he has no great successes to show in international politics. Therefore, I think he's just waiting for the moment it will be possible to implement the sanctions as painlessly as possible, because he knows that any US action will result in retaliatory measures by the other side."