As Secretary General of the Norwegian Red Cross, Børge Brende was a driving force behind the ban on nuclear weapons. In his capacity as Foreign Minister, however, Brende called the ban a "dead end" and dismissed it as "populism."
"The ban on nuclear weapons is a dead end and a blow in the air," Foreign Minister Børge Brende was quoted as saying by Norwegian national broadcaster NRK after the 2017 Nobel Peace Prize was awarded to ICAN, the international campaign for a nuclear arms ban.
​This does not exactly correspond with what Brende had to say when he led the Norwegian Red Cross a few years ago.
"We urge the government to prioritize negotiations with the idea of banning and totally abolishing nuclear weapons through a legally binding international treaty," Brende was quoted as writing in a letter issued to Nordic governments in December 2010.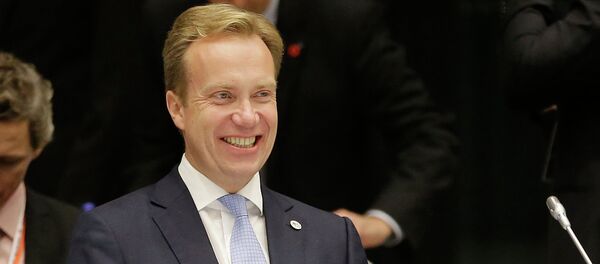 The letter was sent by the Red Cross associations in the Nordic region and was signed by Børge Brende on behalf of the Red Cross Norway.
"The Nordic Red Cross Societies encourage an appeal to our governments to give the highest possible priority to reaching a legally binding treaty that prohibits the use, development, stockpiling and relocation of nuclear weapons," the letter unearthed by NRK said.
Seven years later, when 122 of the UN member states supported a treaty banning nuclear weapons in July 2017, Norway, with Brende at the helm of its Foreign Ministry, boycotted negotiations and refused to sign the treaty.
Brende himself repeatedly criticized the ban, arguing that he did not intend to support proposals that weaken NATO.
When confronted by NRK about his previous remarks shortly after the Noble Peace Prize had been awarded to ICAN, Brende argued that the Red Cross's initiative was solely a humanitarian one.
"A ban was not on the agenda then, on the contrary," Brende said in stark contrast to the content of the letter he himself had signed.
Bernt Apeland, today's Secretary General of the Red Cross Norway, however, confirmed that his organization had called on Nordic prime ministers to work on a short-term ban on nuclear weapons and a long-term prohibition.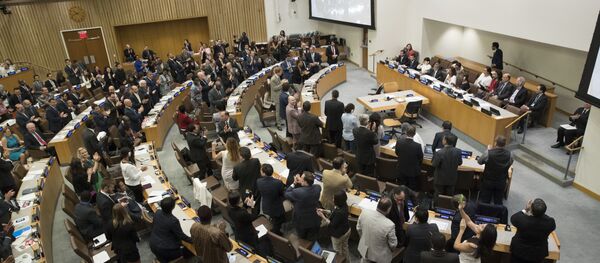 1 September 2017, 07:35 GMT
By contrast, Apeland did not believe that a nuclear arms ban was a "blow in the air," but part of the Red Cross's agenda.
Incidentally, the Norwegian government itself shared the vision of a world free of nuclear arms.
"We want a balanced, reciprocal and verifiable abolition of nuclear weapons and will on this basis act long term to work out a legally binding framework to ensure this goal," the Foreign Ministry pointed out to NRK.
Børge Brende represents the ruling Conservative Party and has been Foreign Minister since October 2013. Prior to this, he served as Environment Minister in 2001-2004 and Trade and Industry Minister in 2005 and has been a member of the parliament since 1997.