The hosts of the Oscars, the Academy of Motion Picture Arts and Sciences, are to meet on Saturday to discuss "any actions warranted" in the light of allegations of sexual harassment against Weinstein.
The Academy called the allegations against Weinstein "repugnant, abhorrent, and antithetical to the high standards of the Academy and the creative community it represents," in a statement released Wednesday.
The Academy has awarded 81 Oscars to films produced by the Miramax studio and the Weinstein Company, both co-founded by Weinstein and his brother. 
Weinstein won the 1998 Best Picture Oscar as producer of Shakespeare in Love and was nominated for Gangs of New York in 2002. In addition, his Miramax studio was awarded Best Picture for The English Patient, as was the Weinstein Company for The King's Speech and The Artist.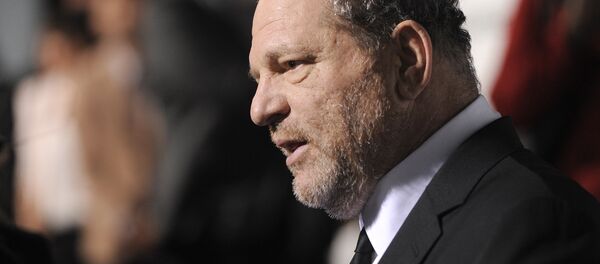 12 October 2017, 00:39 GMT
The film mogul was the subject of a report in the
New York Times
last week, in which several women working in the entertainment industry alleged that Weinstein had subjected them to sexual harassment. Since the initial expose, more women have come forward to say that Weinstein had also sexually harassed them,
including Angelina Jolie and Gwyneth Paltrow
.
On Wednesday, the British Academy of Film and Television Arts announced it had suspended Weinstein's membership "in light of recent very serious allegations."
Weinstein has been fired from the board of the Weinstein Company since the allegations surfaced. His wife has left him and he has been condemned by other Academy Award winners including Judi Dench and Meryl Streep, although Donna Karan came to his defense.