Vladimir Kozhin, Russia's presidential aide tasked with military technical cooperation, said that the S-400 deal with the Saudis would take place "In the very near future," adding that "now there are negotiations, coordination."
According to media reports, Saudi Arabia can buy four or more divisions of the S-400 Triumph air defense systems.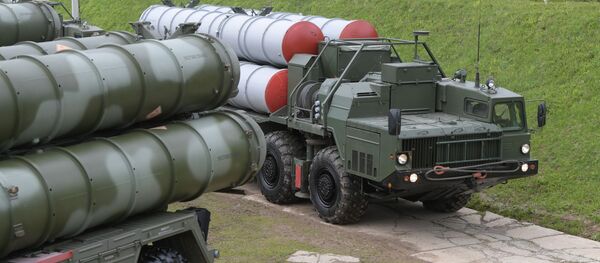 9 October 2017, 07:04 GMT
Earlier, on October 9, Russian Presidential Press Secretary
Dmitry Peskov
 stated that that the deal to supply Saudi Arabia with S-400 SAMs has good prospects.
Russia will also supply Saudi Arabia with Kornet-EM multi-purpose missiles and multiple TOS-1A Bouratino rocket launchers, as well as AGS-30 grenade launchers and Kalachnikov AK-103 assault rifles. In addition, the export agency of the Russian military-industrial complex, Rosoboronexport, and a state-owned Saudi Arabian company (SAMI) signed a licensed production contract for the AK-103.
The S-400 Triumph is a new-generation mobile missile system which carries three different types of missiles, and is intended to engage aircraft as well as ballistic or cruise missiles.
It combines multi-functional radars, detection and targeting systems, anti-aircraft missile systems, launchers and a control center. The first tests were carried out in 1999. Development was completed in 2004. It has been in service with the Russian Armed Forces since 2007.