The International Campaign to Abolish Nuclear Weapons (ICAN), the 2017 recipient of the Nobel Peace Prize, the world's most prestigious accolade, issued a strong rebuke to the Trump White House following an announcement by the latter that it will remove the US from the historic 2016 Joint Comprehensive Plan of Action (JCPOA) treaty negotiated between Iran and the P5+1, a group including China, Russia, the UK, France, and the US — as well as Germany and the European Union — to end Iran's development of nuclear weapons.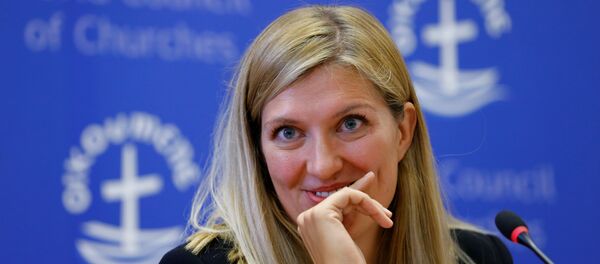 8 October 2017, 20:39 GMT
The 2017 Nobel Peace Prize laureate, in the form of its executive director Beatrice Fihn, released a statement on Friday noting that Trump and his administration are "igniting new conflict rather than reducing the risk of nuclear war," cited by Xinhua.
"Trump's attempt to disrupt the Iran deal, despite the fact that the IAEA has repeatedly certified that Iran is complying with its terms, is a jarring reminder of the immense nuclear danger now facing the world and the urgent need for all states to prohibit and eliminate these weapons," Fihn stated.
Pointing out that the danger of nuclear conflict is as urgent as it has ever been, ICAN called for renewed diplomacy in the face of Trump's ongoing escalation of rhetorical threat.
"The Joint Comprehensive Plan of Action [JCPOA] is a demonstration of how well diplomacy can work, and like the Treaty on the Prohibition of Nuclear Weapons, it reflects the urgent global imperative to eliminate nuclear weapons and the grave threat they pose," said Fihn, cited by Xinhua.
"If ever there were a moment for nations to declare their unequivocal opposition to nuclear weapons, that moment is now. There is an urgent need to strengthen existing and develop new norms against the use and possession of nuclear weapons by joining the Treaty on the Prohibition of Nuclear Weapons," ICAN added.
Theresa May, Emmanuel Macron and Angela Merkel, in a joint statement issued Friday, declared their intention to remain in the treaty, referring to the historic JCPOA as "the culmination of 13 years of diplomacy."
The leaders of France, the UK and Germany stated that they are "concerned by the possible implications" of Washington's announcement to depart from the Iran nuclear agreement.