According to the Syrian SANA state news agency citing a military source, the government forces supported by allies have liberated the town of al-Mayadeen, the largest Daesh hotbed in the Deir ez-Zor province.
A large number of Daesh terrorists were eliminated, according to SANA.
The victory comes 8 days after the Syrian army entered al-Mayadeen (located 45 kilometers east of the city of Deir ez-Zor). During the first days of the military operation, the government troops reportedly destroyed several Daesh weapons depots and a communication hub.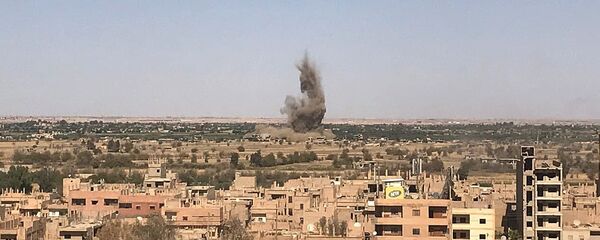 12 October 2017, 18:00 GMT
From this settlement, Daesh mobile detachments previously attempted to counterattack the government forces near Deir ez Zor and the army's positions on the Palmyra-Deir ez Zor highway, which is considered the main way of supplies to the city.
The al-Mayadeen offensive of the Syrian army in the province comes over a month after the three-year blockade of the city was lifted by government troops with support from the Russian Aerospace Forces on September 5. The operation to clear the city from remaining terrorists is currently underway.