"We would like to make a statement that our country faces a threat that its existence is challenged and could be destroyed by the United States. History shows proof that we should protect ourselves on our own and our nuclear programs — are the programs of nuclear deterrence aimed at the protection of our independence," An Tong Chun, the first deputy speaker of the North Korean parliament, said Sunday.
The lawmaker added that North Korea has to defend itself and develop its nuclear program because the country's existence is at stake due to hostile actions taken by the United States.
North Korea also called on the United States to stop its hostile policy in regards to Pyongyang, following Pyongyang's recent statements at the 137th Inter-Parliamentary Union Assembly in St. Petersburg.
"We want the United States to end its hostile policy as for North Korea," said An Tong Chun, who is leading the North Korean delegation.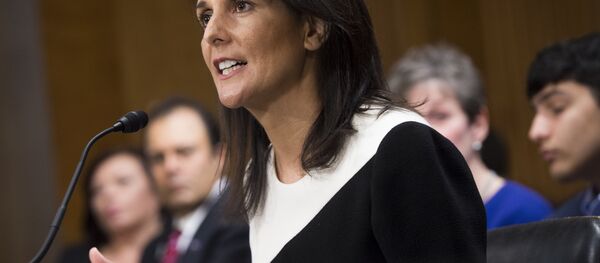 15 October 2017, 14:52 GMT
Earlier the delegation
claimed it to be impossible
to "even talk" about negotiating the recent tensions on the peninsula.
The statement comes as the US-South Korean drills are set to kick off on Monday. Earlier, the US flew two B-1B strategic bombers over the Korean Peninsula and test-fired ground-attack missiles. Moreover, the USS Michigan, a nuclear-powered US submarine, arrived in the South Korean port of Busan amid the ongoing escalation of tensions.
Pyongyang has responded to the war games by saying that the US and South Korea will "ignite an aggressive nuclear war against us," calling the arrival of B-1b bombers and nuclear submarines "reckless military provocation." Moreover, media reports suggested that North Korea is allegedly preparing for a missile launch amid the US-South Korea drills.