As airline crew screamed and cried, the 145 passengers on board AirAsia flight QZ535 from Perth, Australia to the Indonesian island of Bali, were ordered to adopt the designated "brace" position as oxygen masks fell from the ceiling as a precaution.
The drama happened just 25 minutes into the flight on Sunday, October 16, when the jet was forced to turn back and make an emergency landing after the sudden drop in mid-air. 
Video footage taken on the plane, later broadcast by local media in Perth, western Australia, showed one crew personnel shouting "passengers get down, get down!"
One passenger, Claire Askew, blamed the airline staff, who she claimed were screaming and in tears, for causing the "panic" that escalated. 
"The panic was escalated because of the behavior of staff, who were screaming and looked tearful," she said.
Another revealed how they were "all pretty much saying goodbye to each other. It was really upsetting."
"I actually picked up my phone and sent a text message to my family, just hoping that they would get it. We were all pretty much saying goodbye to each other," the woman, called only Leah, said.
"One of the stewardesses started running down the aisle and we thought, why is she running and then the masks fell down and everybody started panicking. Nobody told us what was going on," she added.
© AP Photo / Channel 9
This Sunday, Oct. 15, 2017 image made from video shows an AirAsia plane at an airport in Perth, Australia.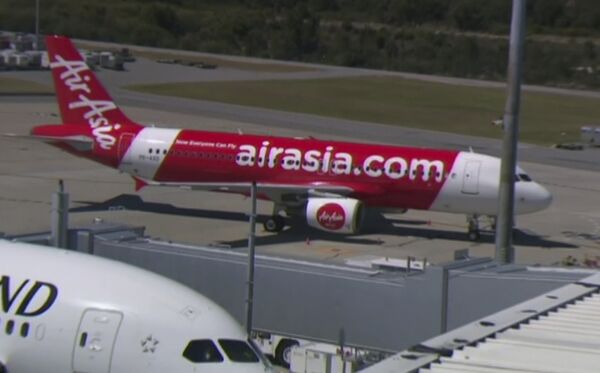 This Sunday, Oct. 15, 2017 image made from video shows an AirAsia plane at an airport in Perth, Australia.
"Hostesses started screaming: 'Emergency, emergency.' They just went hysterical. There was no real panic before that, then everyone panicked," passenger Mark Bailey said.
Fellow traveler Norman Pearce was unimpressed by the reaction of the flight crew, saying: "Emergency. Crash positions and that was it. Nothing for about five minutes and then the oxygen fell down."
In the video, posted on social media, one couple, Malcolm Canning and his wife Janet, look anxiously on and embrace each other.
Minutes after the emergency landing, engineers from AirAsia began an investigation to try and determine the cause of the sudden drop in pressure.
In a statement, the airline said it was "fully committed" to the safety of passengers. It did not elaborate on the reason behind the emergency although the plane remains grounded.
"AirAsia apologizes to passengers for any inconvenience caused. The safety of our guests is our utmost priority," it read.
Other AirAsia Incidents
This latest incident is among a number of others to befall AirAsia flights in recent months.
Four months ago a flight from Perth bound for Kuala Lumpar was forced to turn back after an engine reportedly failed and an explosion was heard mid-flight leaving the jet "shaking like a washing machine."
In December 2014, an AirAsia aircraft crashed into the Java Sea, killing all 162 people on board after the aircraft's rudder control system malfunctioned during the flight.
Less than two weeks after that another flight had to divert to Brisbane after a suspected bird strike.