At present, Denmark, like its Nordic peers, can say no to a pipeline only on environmental grounds. Should the new bill be ultimately passed, security concerns, foreign policy and defense issues will also be considered in connection with applications for pipelines in Danish territorial waters, Danish Radio reported.
"Denmark is currently unable to take into account foreign policy, security policy or defense policy when someone applies to build a pipeline, gas or electricity line in Danish territorial waters. This bill rectifies that," Climate and Energy minister Lars Christian Lilleholt of the ruling Liberal Party told Danish Radio.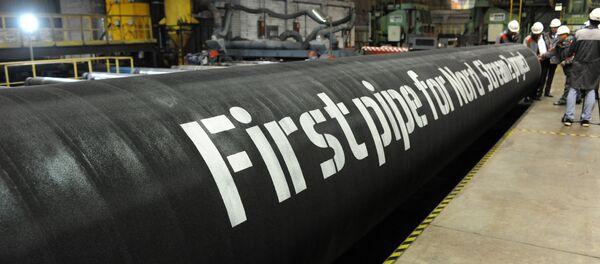 3 September 2017, 09:36 GMT
Previously, the Nord Stream 2 leadership had applied for environmental permits for the project regarding the affected countries in the Baltic Region, including Denmark. At present, Nord Stream 2's application is being processed by the Danish Energy Agency. The bill, which purportedly has "broad political support in Danish parliament," may at the earliest come into force at the beginning of the new year and it remains unclear whether it will affect the process at all.
European Commissioner for Competition Margrethe Vestager admitted last week that the EU has no legal means of stopping the pipeline. According to Nord Stream 2 spokesperson in Finland Minna Sundelin, it is imperative that projects of this size are planned long-term and rely on existing legal framework.
"Nord Stream 2 has applied for permission based on current legislation and on the directives given by the Danish authorities. Five major European energy companies have already committed themselves to investments of €4.5 billion, Minna Sundelin said, as quoted by the Finnish daily Hufvudstadsbladet.
Although Denmark's attempts to block Nord Stream 2 do not appear fully viable, the company's leadership has alternative routes for its prized project.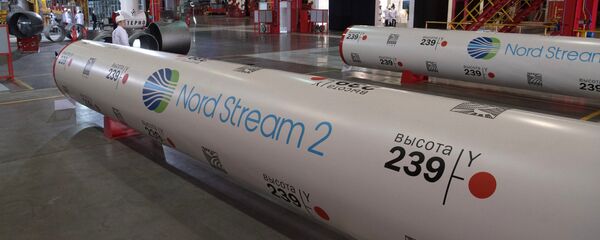 Nord Stream 2 spokesman Jens Mueller told the Danish newspaper
Berlingske
that the company was constantly evaluating the situation and was ready to consider alternatives, should the need arise. This idea was echoed by Nord Stream technical director Sergey Serdyukov who said that the leadership was ready to reroute the pipeline, avoiding Denmark's territorial waters altogether.
"The distance does not matter. Who cares about a couple of extra kilometers on a 1,200-kilometer long pipeline," Serdyukov told the Russian business daily Vedomosti.
Lars Christian Lilleholt admitted that Denmark could not possibly block routes bypassing its territorial waters, such as north of the Danish island of Bornholm.
​The planned pipeline Nord Stream 2 has triggered a polarizing debate within the EU. Those opposed to the project argue that it would only increase the EU's dependence on Russian gas, whereas its advocates emphasize EU's growing need for natural gas, stress its benefits over other fossil fuels, such as coal, and predictably it will bring European gas prices down.
A recent report from consultancy agency Arthur D. Little concluded that Nord Stream 2's total economic benefit to the EU amounted to €5.15 billion. Furthermore, the investment until the end of July 2017 creates the equivalent of 31,000 full-time jobs in the EU over five years, adding €2.25 billion in GDP in various industrial sectors.
​Nord Stream 2 is a joint venture between Russia's Gazprom, France's Engie, Austria's OMV AG, Germany's Uniper and British-Dutch Royal Dutch Shell that envisages the construction of a pipeline with an annual capacity of 55 billion cubic meters of natural gas.
The pipeline is slated for construction in parallel to the existing Nord Stream route from Russia's coast to a hub in Germany through the Baltic Sea, including the economic zones of Finland, Sweden, Denmark and Germany.