WASHINGTON (Sputnik) — The government of Iraq has accused Kurdish officials of waging a misinformation campaign to cover up attacks on Iraqi Security Forces in Kirkuk.
"Despite clear communications by the government of Iraq on the redeployment of federal forces, there is a concerted misinformation campaign by elements in the Kurdish region to cover up their sinister actions in attempting to disrupt the coordinated and professional movements of the Iraqi Security Forces," the Iraqi embassy in Washington, DC said in a statement.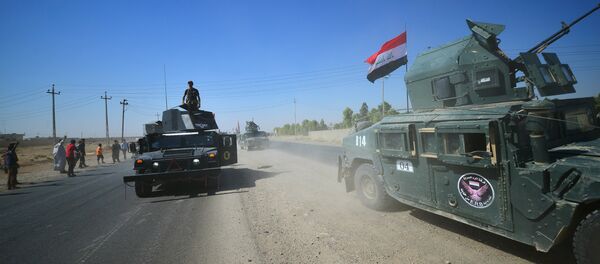 16 October 2017, 17:51 GMT
The statement reiterated that Iraqi government forces had communicated their redeployment plan in advance to Kurdish forces, but added that troops from the Iraqi Security Forces were harassed and fired upon by party militias who attempted to cause an outbreak of conflict.
It added that the redeployment would move forward and government officials would work with federal forces to ensure the peaceful movement of troops.
Clashes have erupted on October 16 as Iraqi troops had established control over the Baba Gurgur and Bai Hassan oil fields, Laylan and Yayci suburbs south of Kirkuk, K-1 military base, Kirkuk airport and a number of other key gas and oil facilities in the region.
Baghdad has refused to recognize the results of the referendum, which was held in the autonomy and other territories that are claimed by Erbil and de facto controlled by Kurdistan's military forces, Peshmerga, although not within the autonomy's official borders. Shortly after the referendum, the Iraqi parliament approved the government's decision to deploy troops to the oil-rich Kirkuk province.