TOKYO (Sputnik) —  The naval drills are aimed at exercising a possible strike against the key military sites of Pyongyang in case of an emergency situation on the Korean peninsula, the YTN TV channel said on Monday
US submarines USS Tucson and USS Michigan are also currently in the ports of South Korea, the media said.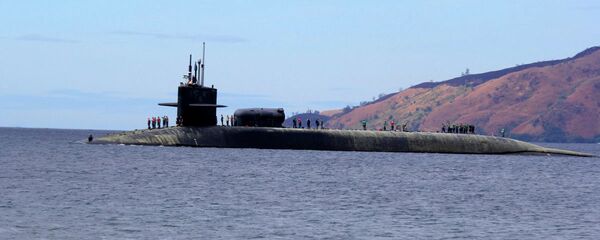 10 October 2017, 05:03 GMT
On Thursday, the US 7th Fleet issues a statement, saying that US aircraft carrier USS Ronald Reagan and Arleigh Burke-class destroyers USS Stethem and USS Mustin will also take part in the drills.
The exercises come against the backdrop of escalating pressure on Korean peninsula over Pyongyang's missile and nuclear tests.
Following the ballistic missile test, conducted by Pyongyang on September 15, the United States and North Korea exchanged threats, with the US President Donald Trump threatening to "totally destroy" North Korea if forced to defend the United States or its allies, and North Korean leader Kim Jong Un warning the United States of a highest level of hard-line countermeasures in history.