BEIJING (Sputnik) — A nuclear war on the Korean peninsula will benefit no one and all parties involved in the North Korean crisis should make more efforts to reduce tensions in the region, Chinese Foreign Ministry spokesman Lu Kang said on Tuesday.
"If such a situation takes place, it will not be in the interest of any of the sides. The Chinese side still hopes that even in such a difficult situation on the Korean peninsula all the sides will be able to exercise restraint and will make more efforts to de-escalate tensions in the region, to return the parties to the negotiating table instead of provoking each other," the spokesman said, commenting on the statement made by the North Korean diplomat.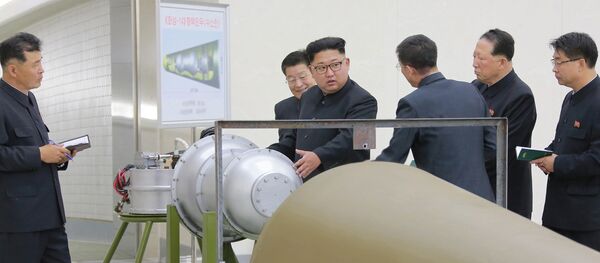 16 October 2017, 13:12 GMT
Beijing's statement comes after the North Korean deputy ambassador to the United Nations, Kim In-Ryong, told the UN General Assembly's disarmament committee that the situation on the Korean peninsula "has reached the touch-and-go point and a nuclear war may break out any moment."
In summer, China and Russia proposed the so-called  "double freeze" plan, aiming to resolve the current crisis on the Korean Peninsula, according to which Pyongyang should stop nuclear tests, while Washington and Seoul should refrain from joint drills. However, the idea was rejected by the US. Last week a Kremlin aide said that the plan "is still on the table" and yet again called on the parties involved to consider it.
On October 16, the US and South Korean navies have kicked off a five-day round of military drills, the type of exercise that North Korea has previously responded with ballistic missile tests. North Korea renewed a promise to target the US territory of Guam with a "salvo of missiles" in the event the US attacks the DRPK.