The Spanish Constitutional Court has ruled that the Catalonian law on holding the independence referendum passed by the local government on September 6 is illegal, according to the court's spokesman. The judges supported the decision unanimously, El Pais reported.
Initially, the court suspended the referendum law as it studied its legality, however, the Catalan government decided to hold the independence vote regardless.
The ruling comes hours after the Catalan government has stated that its answer to Madrid concerning the status of the region won't differ from the October 2 speech made by Catalonia's leader Carles Puigdemont, who said that the independence referendum's results enabled the proclamation of the autonomy's independence, but suggested suspending the declaration of independence for several weeks in order to engage in dialogue with the Spanish authorities. The same day, Puigdemont and other lawmakers, supporting Catalonia's independence, signed an independence declaration.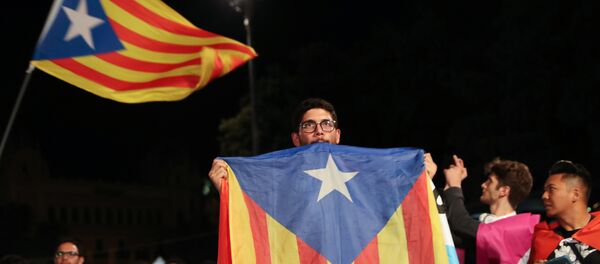 16 October 2017, 19:32 GMT
In its turn, Madrid voiced dissatisfaction with Catalonia's announcement and urged the autonomous region to clarify its current status until October 19.
The Spanish authorities vowed to invoke Article 155 of the Spanish Constitution, that might limit the self-governance of the autonomous region, in case if they receive an unsatisfactory response or no response at all.