The video shows a Syrian Air Force cargo plane and a jet landing at and taking off from the airfield. Now that the airfield's immediate vicinity has been cleared of terrorists, air traffic has been able to resume.
"The moment of the arrival of the first aircraft at the Deir ez-Zor airfield after a year-long hiatus."
A Syrian Army source told Sputnik Arabic that the Army's recent advances in the area have made it possible to secure those territories adjacent to the airfield which had been occupied by Daesh, thus making it possible to reactivate the dormant airfield.
"Presently, the airfield's buildings and runway are undergoing repairs. The Deir ez-Zor Aerodrome is deemed a strategically important base for the Syrian Air Force in the fight against Daesh," the source said.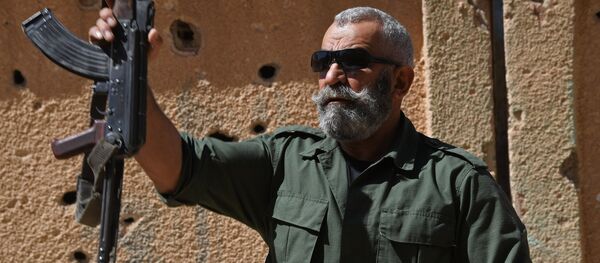 18 October 2017, 11:11 GMT
"Moreover, conditions have been created for the airfield's use for trade and civil aviation, which will help speed the city's reconstruction," the source added.
The Syrian Army lifted the siege of Deir ez-Zor last month, ending a brutal three-year blockade which has been described by some as Syria's 'Leningrad Seige'. The road between Palmyra and Deir ez-Zor has been reopened, and made available for use by humanitarian convoys. Rebuilding efforts have begun, but have been complicated by intermittent Daesh shelling, and by mines and boobytraps left by the terrorists in the area. The Syrian Army has continued its operations in the region with the help of Russian air power, and plans to continue to pursue the terrorists until their complete destruction.