US military intelligence assesses that North Korea has started building a "Sinpo-C-class" submarine at the Sinpo shipyard on the country's east coast, the outlet reports. The sub's specifications include a displacement of 2,000 tons, a maximum width of 11 meters and a diesel-electric propulsion system.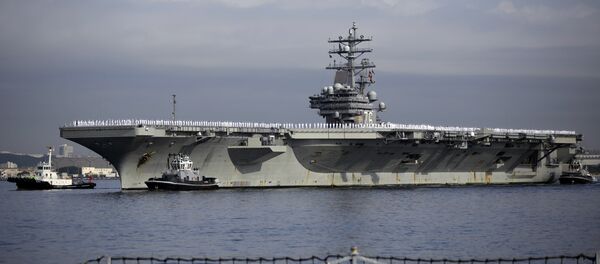 17 October 2017, 18:26 GMT
North Korea's military receives a remarkable bang for its buck with submarines, given the advanced threats it faces, according to some analysts. "US and South Korean naval and air forces are now so overwhelmingly superior that the only viable way for Pyongyang's navy to survive is to go underwater," Kyle Mizokami wrote in an August 1, adding that "North Korea's submarines have the advantage of numbers and, in peacetime, surprise."
In the eyes of the Pentagon, North Korea's "pursuit of a submarine-launched ballistic missile capability also highlights the regime's commitment to diversifying its missile force, strengthening the force's survivability, and finding new ways to coerce its neighbors," according to a 2015 report to lawmakers.
The Pentagon report states the North Korean navy "maintains one of the world's largest submarine forces, with around 70 attack-, coastal-, and midget-type submarines."
The new Sinpo-C-class vessel would "likely" be North Korea's largest sub to date, according to the Diplomat.
A 38 North analysis from October 11 corroborates a key element of Panda's reporting. "Given the continued movement in the parts yards [at the Sinpo shipyard], a shipbuilding program is probably underway," the website reported, citing satellite images captured September 21. Report author Joseph S. Bermudez predicted, though, "the current imagery does not indicate an imminent test" of a submarine-launched ballistic missile.

17 October 2017, 03:12 GMT
Meanwhile, in Seoul, Unification Minister Cho Myoung-gyon said at an event Wednesday, "it might not be wrong to say there is no chance for North Korea to give up its nuclear weapons, because [Pyongyang] believes nuclear weapons" are the North Korean government's "lifeline," the Korea Times reports. Cho is a veteran South Korean government official who the nation's lawmakers approved as unification minister July 3. The post's duties included handling inter-Korean issues.
"He believes his regime and North Korean society will collapse if he gives up nuclear weapons, so he will hold out for as long as possible in such circumstances," Cho said.