MOSCOW (Sputnik) – Hungarian-born billionaire George Soros has transferred nearly $18 billion of his estimated $24.6-billion fortune to his pro-democracy Open Society Foundations, US media reported, citing foundation officials.
The transfer has made the organization that works "to build vibrant and tolerant democracies whose governments are accountable to their citizens" the second largest in the United States, trailing behind only the Bill and Melinda Gates Foundation, The Wall Street Journal said.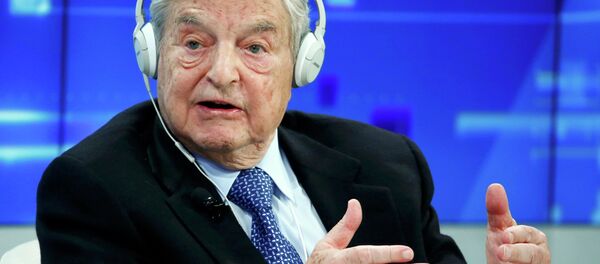 6 October 2017, 17:05 GMT
Soros established a special investment committee of the foundation and appointed its chairman, the news outlet reported.
The business magnate is not planning to trade the funds he transferred to Open Society, the newspaper said, citing people familiar with the situation.
The Open Society Foundations operates more than 40 offices around the world.
In late November 2015, Russia's General Prosecutor's Office announced that two branches of Soros' charity network — the Open Society Foundations and the Open Society Institute Assistance Foundation — would be included in a "stop list" of foreign non-governmental organizations whose activities have been deemed "undesirable" and posing a threat to state security and the Russian constitution.