Trump, who often derides the mainstream media as "fake news," on Thursday lashed out at the networks again, this time for ignoring what he felt was a bombshell story. That day, The Hill published a report that the FBI had investigated corruption in the nuclear industry before the State Department, at that time headed by Clinton, and the Obama administration approved a 2010 deal giving Moscow control of one-fifth of all uranium production capacity in the US.
According to The Hill, the controversial deal that made Russian atomic energy agency Rosatom one of the world's largest uranium producers, was inked despite substantial evidence obtained by the FBI during the probe. There was also speculation that Clinton, then secretary of state, approved the agreement benefiting Russia in exchange for donations to the Clinton Foundation from Canadian mining industry leaders involved in the deal. Clinton denied that she helped support the donors' interests.
"Uranium deal to Russia, with Clinton help and Obama Administration knowledge, is the biggest story that Fake Media doesn't want to follow!" Trump tweeted Thursday, criticizing news outlets for keeping silent on the issue.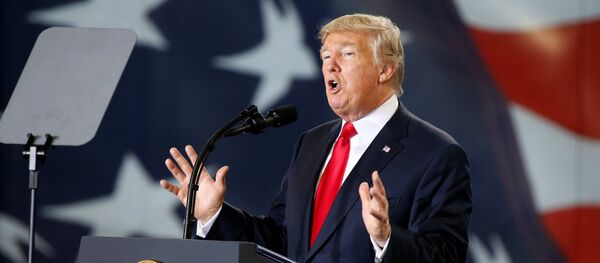 19 October 2017, 21:56 GMT
The Senate Judiciary Committee recently launched an investigation into the matter and sought permission to interview an FBI informant who helped agents uncover the scheme.
"To me what this shows is what Julian Assange has frankly been saying all along, that what he is seeing is not any collusion between Trump and his people and Russia, but that in fact Hillary herself was compromised, let's put it that way, in her dealings with folks in Russia," Dan Kovalik, human rights and labor lawyer, told Radio Sputnik in an interview.
He said he found it absurd that Clinton, who bears some responsibility for starting and promoting the RussiaGate witch hunt, is now being drawn into the narrative.
"She did start it. Her campaign folks, John Podesta, we know, intentionally came up with the RussiaGate claims within 24 hours of her concession speech… in order to deflect blame away from herself and her campaign for what seemed to be an impossible loss to Donald Trump."
Meanwhile, Clinton continues to accuse Moscow and WikiLeaks' founder Julian Assange of conspiring to disrupt her presidential bid. The FBI's special counsel, Robert Mueller, as well as the US House of Representatives and Senate Intelligence Committees, are examining Russia's alleged meddling in the 2016 election and whether collusion with Trump associates took place.
Kovalik pointed out that in fact Trump's policy is in some ways more hostile to Russia than that of the Obama administration, during which major sales to Russian corporate entities of strategic commodities like uranium were approved.
​"[Trump] put Patriot missiles in the Baltics — that'd never been done before. He has made it clear we are going to fund the Ukrainian military forces… He is acting quite dangerously in Syria… He shut down the largest Russian consulate in America, in San Francisco," Kovalik said.
Trump has repeatedly denied all allegations of collusion with Russia.