BAGHDAD (Sputnik) – Iraqi forces are continuing their advance in two areas disputed between Baghdad and Kurdistan, the secretary general of the Kurdish Peshmerga Ministry told Sputnik on Wednesday.
"Military action is underway, especially in two regions. There is an offensive in an area of the Diyala province … there is also another direction of advance in the area of the Mosul Dam. [Iraqi forces] are heading to the Syrian border, to the Rabia border crossing. From there, they will go in the direction of the Ibrahim Khalil border crossing at the Turkish border," Jabbar Yawar said.
There are Peshmerga troops in these regions, however, they are not engaging in clashes with the Iraqi military in an effort to avoid confrontation, Yawar pointed out.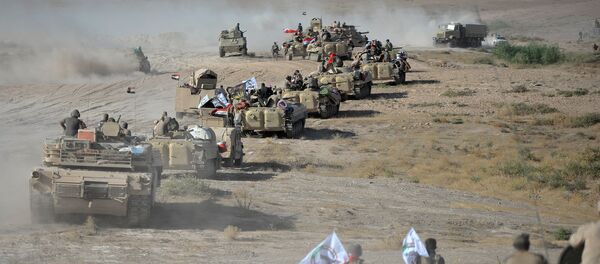 17 October 2017, 08:33 GMT
The tensions between Baghdad and Erbil escalated after recent
independence referendum
held in the Kurdistan region as well as disputed areas. At the vote, over 90 percent of the Kurds supported secession from Iraq. However, the referendum has been harshly opposed by Baghdad.
Earlier in the week, Iraqi forces, supported by Shiite militias, conducted an offensive on the disputed oil-rich region of Kirkuk. Media reported on Monday, that the Baghdad forces had gained control of the city. On Tuesday, Barzani said that the situation follows Peshmerga's withdrawal from Kirkuk due to a unilateral decision of some Kurdish politicians.
Peshmerga secretary general suggested that Iraqi forces will not continue to advance beyond Kurdistan's borders.
"I cannot imagine [the continuation of the Iraqi offensive into Kurdistan]. The troops will reach the border of 2003, they will establish control over these regions, and from there, they will head to the border crossings," Jabar Yawar said, suggesting that Baghdad strives to capture and shut down the crossings at Kurdistan's border with neighboring countries.
Such actions by Baghdad would mean a complete economic and military blockade of Kurdistan, Yawar pointed out.