On its website a single short paragraph outlines the purpose of US Africa Command (AFRICOM) thus:
"United States Africa Command, in concert with interagency and international partners, builds defense capabilities, responds to crisis, and deters and defeats transnational threats in order to advance U.S. national interests and promote regional security, stability, and prosperity."
Reading this, surely we are bound to ponder what gives the United States the moral or ethical right to establish an Africa Command in the first place? How deep must the well of imperial arrogance in Washington be to believe it has such a right? It also requires us to ponder what the reaction would be in Washington if China or Russia were to establish and operate an "Africa Command"? Or even more pertinently, imagine a world in which a United States of Africa established a "North America Command"?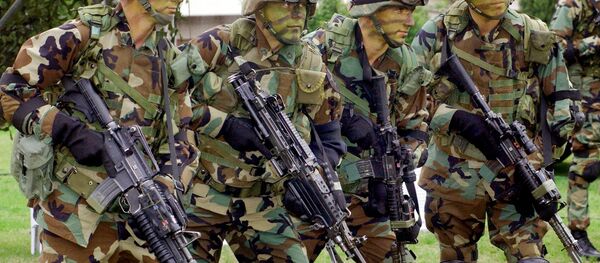 20 October 2017, 00:44 GMT
It surely goes without saying that until we start imagining such a world we shall forever remain prisoners of the accomplished fact. 
Interestingly, despite the establishment of AFRICOM in 2007, in 2017 its headquarters remain far removed from Africa in Germany — at Kelley Barracks in Stuttgart to be precise. In fact, Washington's only permanent military base on the African continent — a decade after AFRICOM was brought into being — is at Camp Lemonnier in Djibouti, originally established as a US Marine Corps base in 2003, before being handed over to US CENTCOM (US Central Command) in 2006, after which the base was reassigned to AFRICOM in 2008. 
Exploring the motives behind the formation of US Africa Command, we cannot overlook the centrality of the struggle for the control and domination of natural resources that has been the driver of the chaos in the Middle East and throughout the Global South. With this in mind, the fact that AFRICOM was the brainchild of a group of oil industry lobbyists and congressmen in Washington in 2002 tells its own story. Under the auspices of the African Oil Policy Initiative Group (AOPIG), they produced a White Paper arguing the case for a US military foothold in Africa, especially West Africa, from where the US derived an increasing percentage of oil imports.
In 2002, the AOPIG projected that by 2015, 25 percent of all US oil imports would emanate from sub-Saharan Africa, compared to the 16 percent it was importing in 2002. Time would prove this projection inaccurate. In fact, rather than the percentage of US oil imports from Africa increasing to a quarter of its total needs, US oil imports from West Africa would decrease rather than increase due to the expansion of the country's domestic fracking industry and production of shale gas as an alternative source of energy.
The fact it has not, confirms that while oil may have been one factor in the establishment of AFRICOM, it was by no means the only factor.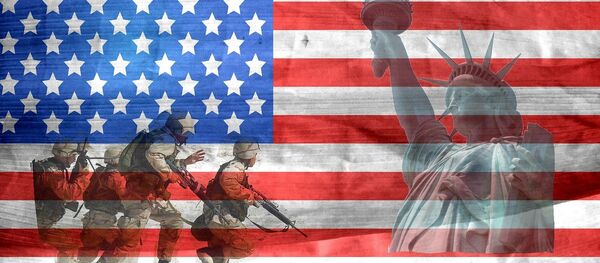 19 October 2017, 19:15 GMT
One man who was well aware of Africa's importance to the United States was Libya's Muammar Gaddafi. During his address to the Summit of the African Union in 2005, the Libyan leader said:
"They are the ones who need Africa — they need its wealth. Fifty percent of the world's gold reserves are in Africa, a quarter of the world's uranium resources are in Africa, and 95% of the world's diamonds are in Africa. A third of chrome is also in Africa, as is cobalt. Sixty-five percent of the world's production of cocoa is in Africa. Africa has 25,000km of rivers. Africa is rich in unexploited natural resources, but we were [and still are] forced to sell these resources cheaply to get hard currency. And this must stop."
Add to this the threat posed by China's growing presence in Africa, providing an alternative source of investment to that provided by the West — one that has not come attached with the kind of punitive terms which characterized Africa's relationship with the IMF and World Bank in the 1980s and 90s — and things become clearer with regard both to the purpose of AFRICOM and US support for Gaddafi's overthrow in 2011.
Professor Maximilian Forte informs us how when in office, the Obama administration "made public its anxiety over the spreading influence in Africa of an ascendant China. At the start of an eleven-day tour of Africa in August 2012, Hillary Clinton [as US Secretary of State] took a 'swipe' with a 'veiled attack' on China, implying that only the US was interested in 'democracy' and 'human rights,' while unnamed others were merely interested in exploiting resources."
This would be the same concern for "human rights" and "democracy" that has provided justification for the projection of US hard power across the Global South since the Second World War, including Africa if we care to cast our minds back to the role of the CIA in supporting the coup which toppled  in 1961, culminating in his murder.  
© REUTERS / Joe Penney
A US special forces soldier demonstrates how to detain a suspect during Flintlock 2014, a US-led international training mission for African militaries, in Diffa, Niger March 4, 2014.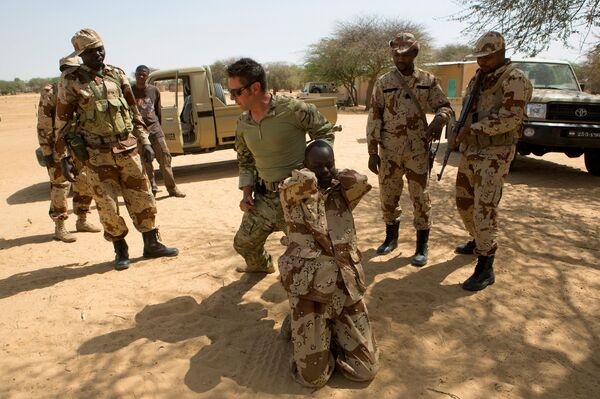 A US special forces soldier demonstrates how to detain a suspect during Flintlock 2014, a US-led international training mission for African militaries, in Diffa, Niger March 4, 2014.
When it comes to the specifics of China's presence in Africa, author Martin Jacques describes a "distinctive Chinese model of development, characterized by large-scale, state-led investments in infrastructure and support services, and aid which is less tied to the donor's economic interests and less overwhelmingly focused on the extraction of minerals as in the case of the West."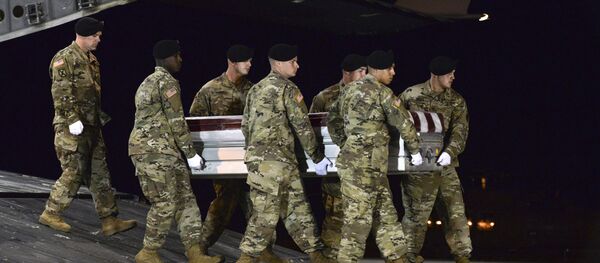 13 October 2017, 15:50 GMT
China, it should not be forgotten, also has a longstanding policy of not involving itself in the internal affairs of other states, unlike its Washington or Western counterpart, which is no surprise given Beijing's historical experience at the hands of colonialism and imperialism.
Further evidence of Africa's importance to Washington lay in the aforementioned Obama administration's establishment of the "Young Africans Leadership Initiative" (YALI) in 2010. Sold as "a long-term effort to invest in the next generation of African leaders and strengthen partnerships between the United States and Africa," YALI is a classic example of soft power projection with the objective of cultivating future African leaders and high achievers with a pro-US bent and worldview.
Whereas in bygone years missionaries decamped to Africa intent on spreading the word of God, today the emphasis is on spreading the word of "democratism," which is not to be confused with democracy, and promote US and Western cultural values.
© AP Photo / WPLG
In this Tuesday, Oct. 17, 2017, frame from video, Myeshia Johnson cries over the casket of her husband, Sgt. La David Johnson, who was killed in an ambush in Niger, upon his body's arrival in Miami.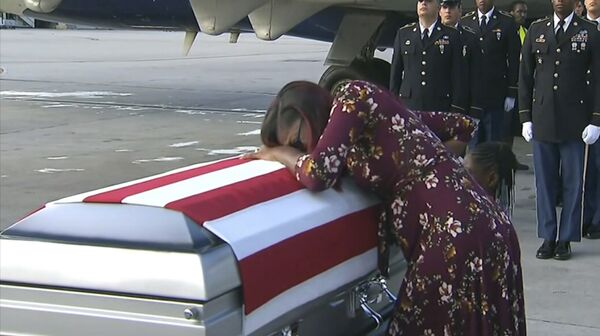 In this Tuesday, Oct. 17, 2017, frame from video, Myeshia Johnson cries over the casket of her husband, Sgt. La David Johnson, who was killed in an ambush in Niger, upon his body's arrival in Miami.
Washington's stated reason for its military mission in Niger, leading to the recent deaths resulting deaths of these four US soldiers, is to combat the spread of Salafi-jihadi terrorism in this part of the world, where indeed various Daesh affiliates have emerged in recent years. However given that AFRICOM came into being long before Daesh became a factor in US foreign policy or strategic thinking — and given that Muammar Gaddafi was a staunch enemy of Islamic extremism and that his overthrow only helped Daesh to gain a foothold in Africa — it is hard to take this reasoning seriously.
The truth — in this case imperialism — is far more prosaic.
The views expressed in this article are solely those of the author and do not necessarily reflect the official position of Sputnik.
Check out John's Sputnik radio show, Hard Facts.