The couple, whose names are Son and Song, defected from the Democratic People's Republic of Korea (DPRK) in 2014. In mid-October, they traveled to Jilin City, a Chinese town on the border with North Korea. The couple then vanished.
The Ministry of Unification believes them to be in North Korea presently, although it isn't clear if they were kidnapped or if they returned to the country voluntarily. "As they fell out of touch after leaving for China, authorities are investigating the case," Unification Ministry spokesman Baik Tae-hyun told the press on Monday.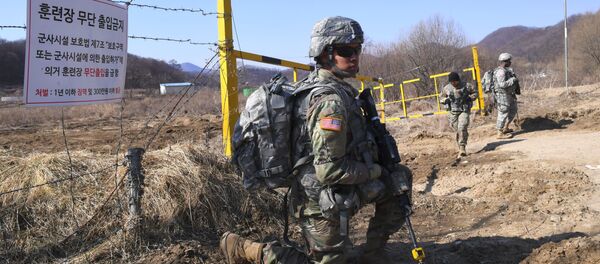 23 October 2017, 12:09 GMT
While Seoul was unclear on what had become of Son and Song, South Korean news outlet TV Chosun reported that the couple had voluntarily returned to their country of origin. The outlet added that the defectors had difficulty finding regular jobs in South Korea and were 120 million won ($106,000) in debt. They also had left their four-year-old child behind in the North when they defected.
South Korean authorities denied the report. "It hasn't been officially confirmed that both returned to North Korea… that's just hearsay," an anonymous official with the Korean National Police Agency told NK News. The official added that other details in the Chosun TV report, such as the ages of Son and Song, were incorrect.
Repatriation to North Korea isn't unheard of. The Unification Ministry reports that between 2012 and 2017, of the 31,093 people who have defected to the South, 26 returned. DPRK defectors often face prejudice in the South and struggle to find anything but low-wage jobs, according to Seoul and nonprofit groups.

22 August 2017, 00:23 GMT
The best known example of this phenomenon is Lim Ji-hyun, who defected to South Korea in 2014 and went back to North Korea in June 2017. Lim, who frequently appeared on South Korean television, said in a DPRK TV report that she suffered "physically and mentally" in the capitalist South.
"The government will make efforts to help North Korean defectors better settle here through cooperation with private agencies and local communities," Baik also said. "It will also do its part to create an atmosphere to embrace North Korean refugees as members of our society."
"We will continue to make efforts to create a social atmosphere so that our people can embrace North Korean defectors as a true member of our society."