In 1967, Carl Johan De Geer rose to national fame with his painting of a burning Swedish flag with the words Kuken (a vulgar world meaning male genitals) written over the cross, together with the inscriptions "desecrate the flag," "betray the fatherland," "refuse weapons" and "be non-national."
The provocative painting was exhibited at an art gallery, but was immediately confiscated by the police. The same year, De Geer was sentenced to 75 daily fines for "offending against the state symbol and fomentation."
Fifty years after, the very same De Geer was awarded the historic honorary medal Illis Quorum Meruere Labores for his cultural efforts at the national level. The medal was founded in 1785 by King Gustav III, but has been distributed by the government since 1975.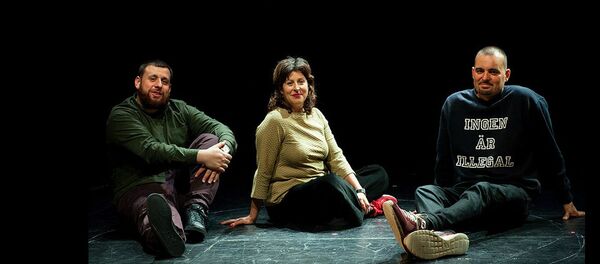 25 October 2017, 11:24 GMT
In the government's own words, De Geer was awarded for "outstanding artistry that renewed and enriched the Swedish art scene." Seventy-nine-year-old De Geer himself found this U-turn ridiculous.
"I laughed so much when they called me from the Ministry of Culture," Carl Johan De Geer told Swedish national broadcaster SVT. "First of all, you're arrested by the police and investigated as traitor and then 50 years later you receive a medal of the heroes of the kingdom — that's just absurd," the veteran artist argued.
De Geer argued that he would have rejected the award had he known of its royal origins because of his collaboration with Sweden's Republican Association, which works to abolish monarchy. In an interview with the news portal ETC, De Geer said that he'd probably have to file down the royal portrait from the medal.
​"I can nevertheless use this to write a satirical story about myself going around trying to exchange it for food and failing miserably. In old pirate movies they always bite on gold coins to find out if they are genuine, and I can think of a waiter biting the medal to see if it's genuine when I order something," De Geer said.
​Canadian-born Carl Johan Louis De Geer af Finspång is a baron and a member of the De Geer noble family. After his formative years in a castle in Skåne county he broke with his bourgeois background and became a leftist artist. He is known for having authored a number of books and film scripts, including "Grandmother, Hitler and Me," as well as his stint with the Swedish prog-rock band Blå Tåget ("Blue Train").
In the summer of 2017, artist Mattias Nordström erected a Swedish flag on a bent flagpole on Sergel Square in Stockholm, which drew instant parallels with De Geer's controversial artwork. While many Swedes celebrated the controversial monument named after the first line of Sweden's national anthem as a manifestation of freedom of speech, others argued it manifested a profound lack of respect for Swedish traditions. Among others, Christian Democrat Erik Slottner called the work of art "inappropriate," arguing that it urged Swedes to stop being proud of their flag.
​The criminal offense "flag desecration" was removed from the Swedish penal code in 1971.