Tom Coburn, a former Republican senator, has made an alarming statement about US President Donald Trump. Discussing national politics with the New York Times, he was asked what it would take for the Republican party to stop supporting the president.
"We have a leader who has a personality disorder," he replied, without elaborating the medical opinion.
However, he said, the party is not going to stop supporting the president, because "[Trump's] done what he actually told the people he was going to do, and they're not going to abandon him."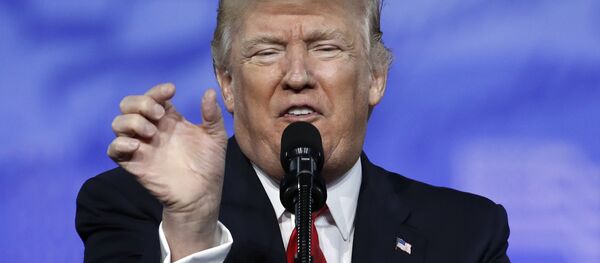 18 August 2017, 20:33 GMT
Although Coburn, who is no longer a member of the Republican party, did not say exactly which personality disorder he thinks the president has, Trump is often alleged to have a "narcissistic personality disorder" or some other psychological condition.
Coburn, it is often pointed out, is indeed a physician. But what makes the situation somewhat awkward here is the nature of Coburn's medical experience.
While major media websites such as Newsweek, the Independent and others underscore that Coburn is a "trained medical doctor," they omit the fact that Coburn is an obstetrician. That is, he specializes in delivering babies, so his point of interest lies pretty far away from the brain.
This is far from the first time people have expressed opinions about Trump's mental condition.
In April, a group of psychiatrists — Dr. John Gartner, Dr. Bandy Lee and Dr. James Gilligan — met at Yale University to make statements about Trump. These three names appear over and over again on similar reports on the issue later on: a Newsweek report from October 14 — Gilligan and Gartner; a Newsweek report from October 24 — Gartner and Lee.
Strange, isn't it? Newsweek explains.
According to a Newsweek report on Coburn's statement, "some Democrats have […] explored ways to test whether Trump possesses the sanity necessary to hold the nation's highest political office. Six Democrats from both congressional chambers reached out to a Yale psychiatry professor to discuss the president's state of mind."
"In each case, the efforts were meant to find a way to impeach Trump, something many Democrats have talked about doing."
Talk about Trump's impeachment started almost immediately after the November 2016 election. In December, before Trump had even taken the oath of office, Vanity Fair published an article entitled "Democrats are paving the way to impeach Donald Trump." Over the past year, we have heard statements that Trump must be impeached over "Russian hackers," the "secret dossier," "obstructions of justice," you name it.
So that's what this is all about. In a way, psychiatry is the new "Russian meddling." Everybody's in on it!