WASHINGTON (Sputnik) — US House Intelligence Committee will gain the financial documents of the research firm, which prepared a notorious dossier related to President Donald Trump's alleged ties with Russia. But the company's bank records will be sealed from public scrutiny.
"The parties have reached an agreement related to the House Intelligence Committee's subpoena for Fusion GPS's bank records that will secure the Committee's access to the records necessary for its investigation," the House Intelligence Committee said in a statement on Saturday.
On Tuesday, Washington Post reported that the Hillary Clinton campaign and the Democratic National Committee had helped fund the Fusion GPS research on Trump's alleged ties with Russia and possible coordination between his campaign and Moscow. Funds were reportedly sent through the law firm Perkins Coie until the end of October 2016.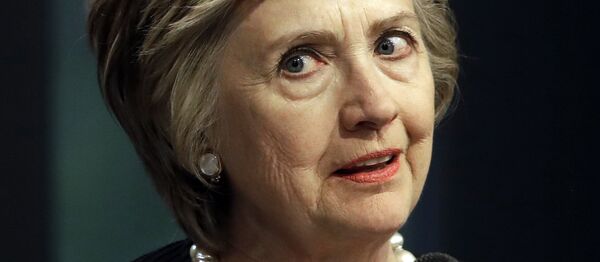 25 October 2017, 00:32 GMT
In June 2016, firm's founder Glenn Simpson employed ex-British spy Christopher Steele to probe Trump's ties with Russia. The 35-pages document, published by BuzzFeed in January, contained unsubstantiated claims that Trump participated in activities that could make him vulnerable to Russian blackmail attempts.
US Congress is currently investigating Russia's alleged meddling in last year's US presidential election. The Federal Bureau of Investigation  has been carrying out a similar investigation. A number of hearings regarding the issue have been held in the Congress, but intelligence service officials did not provide any evidence, claiming that the information was confidential.
The US media outlets have also accused Russia of meddling in the election campaign and claimed, citing unidentified sources, that team of Donald Trump, who won the presidential vote, allegedly had ties with Russian officials and businessmen.
Moscow has repeatedly refuted all allegations. Kremlin spokesman Dmitry Peskov called the accusations "absolutely groundless."