On the Telegram instant messaging app, a known Daesh militant group shared an image of the the royal standing in front of Thomas's Battersea, the South London school he currently attends, with the caption, "School starts early."
​The image was shared on the encrypted-messaging channel with the message: "Even the royal family will not be left alone."
But that wasn't all.
Media outlets also reported that the message included the lyrics to a song which translated to: "When war comes with the melody of bullets, we descend on disbelief, desiring retaliation."
"This threat to Prince George is chilling," Barry Spielman, a cybersecurity expert, told the Daily Star, which first uncovered the messages. "Our intelligence suggests that these threats are to be taken seriously."
Since the news broke first broke about the messages, a spokesperson for London's Metropolitan Police indicated the authorities were "aware of the online extremist content," but did not comment on security arrangements regarding the royal tot.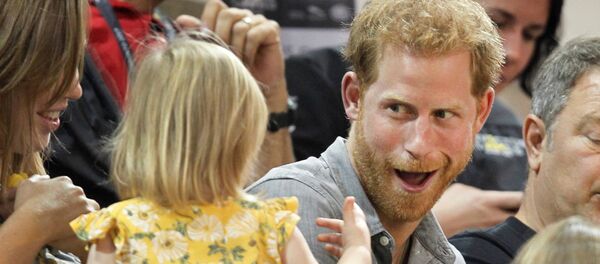 28 September 2017, 19:00 GMT
Alas, this is not the first time this royal family has received a threat.
Back in September, Prince Harry was threatened in a Daesh propaganda video that urged him to "come and fight us if you're man enough, so that we can send you and your Apaches to hellfire."
Queen Elizabeth II was also targeted in 2015 prior to celebrations marking 70 years since the end of World War II, Channels News Asia reported.
Telegram, which was launched in 2013, has been a hub for terrorists since 2015, according to reports. The program's founders were previously forced to shut down 78 "Daesh-related channels," though several other "channels" later popped up, the Daily Mail reported.