Manafort and Gates were indicted on 12 counts of charges of money laundering, concealment, conspiracy against the United States, and failing to register as foreign agents of the Ukrainian government in their capacities as lobbyists working for pro-Russian former Ukrainian president Viktor Yanukovych from 2004 to 2014.
Manafort would become then-candidate Donald Trump's campaign chief in the summer of 2016, with Gates as Manafort's deputy.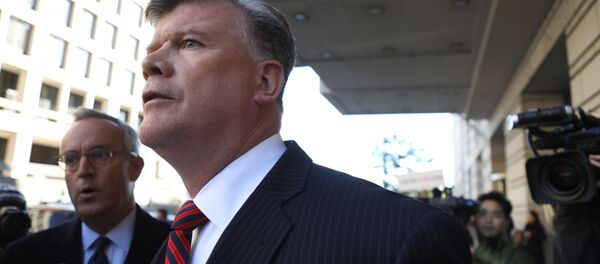 30 October 2017, 19:14 GMT
Both men pleaded not guilty to all charges during their hearing with Judge Deborah Robinson at the US District Court for Washington, DC. Both men agreed to remain under house arrest and report daily to authorities in exchange for a release from custody. They also surrendered their US passports. Robinson set the next status hearing for the trial for November 2.
Mueller, who served as the FBI chief from 2001 to 2013, has been acting as DOJ's special counsel in investigating allegations of collusion between the Trump campaign and Moscow. The White House has denied all charges of collusion,  and none of the charges that the two men were indicted under today have any direct connection to the Trump presidential campaign or the Trump White House..
"I think you all saw today that President Donald Trump was correct," said Kevin Downing, Manafort's attorney, in a statement to the press. "There is no evidence that Mr. Manafort or the Trump campaign colluded with the Russian government."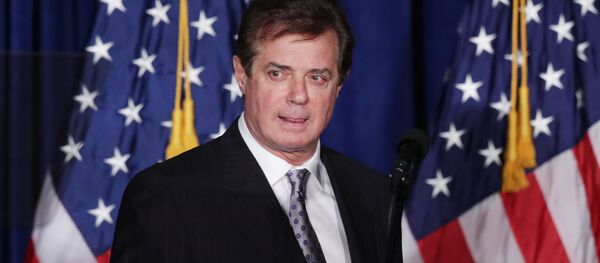 30 October 2017, 18:02 GMT
"Mr. Manafort represented pro-European Union campaigns for the Ukrainians and… was seeking to further democracy and to help the Ukraine come closer to the United States and the EU. Those activities ended in 2014 over two years before Mr. Manafort served in the Trump campaign." He also alleged that the government was using a "novel theory" to prosecute Manafort under the FARA filing, and called the charges of concealment "ridiculous."
Also on Monday, the DOJ announced that George Papadopoulous, a foreign policy adviser to the Trump campaign, pled guilty to making false statements to FBI agents pertaining to Russian actors he had contacted or attempted to contact while acting as an adviser.