Kevin King, 60, an American, and Timothy John Weeks, 48, an Australian, both taught at the American University in Kabul before they were kidnapped at gunpoint by the Taliban in August 2016 while leaving campus. 
In a YouTube video uploaded last January, the pair, visibly distressed, begged the American government to negotiate with the Taliban.
"If we stay here for much longer, we will be killed. I don't want to die here," Weeks says in the video.
"Donald Trump, sir, I ask you, please. This is in your hands. I ask you please to negotiate with the Taliban. If you do not negotiate with them, we will be killed," Weeks pleaded.
In their statement Monday, the Taliban said that King has heart and kidney complications and that his condition has "exponentially worsened."
"We have periodically tried to treat and care for him but since we are facing war conditions and do not readily have access to health facilities we are unable to deliver complete treatment," the Taliban spokesman Zabihullah Mujahid added, claiming that King has been frequently fainting.
"We will not be held responsible for [King's death] due to the fact that the opposition does not want to bring an end to the issue," the Taliban added, referring to the holding of its members.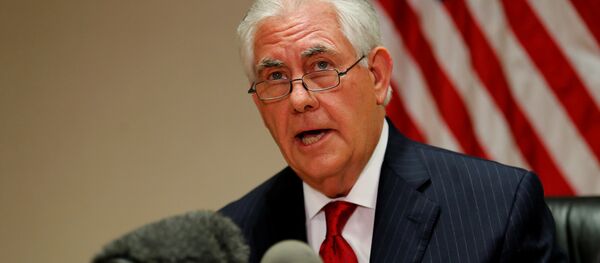 24 October 2017, 22:58 GMT
On Monday, the American University in Kabul released a statement saying that the school's faculty and students "are deeply saddened and disturbed to receive the news" of King's bad health and that both King and Weeks "came to Afghanistan to teach Afghan youth and contribute to building a peaceful Afghanistan."
"They have done no harm to anyone," the university statement adds.
A few days after their capture, a US Navy Seal team attempted a rescue operation, raiding a compound in eastern Afghanistan where they believed the hostages were being held, but did not find them there.