The Metropolitan Police in London have introduced a chemical spray which "tags" suspects and a remote-controlled device which bursts the tires of mopeds, often used by gangs to commit crime. 
The spray, which has a unique chemical code, was used recently after a woman in Tottenham, north London, was mugged by a pillion passenger on the back of a moped.
​Superintendent Mark Payne, who is leading the Met's efforts against moped gangs, said police officers in the vicinity were able to spray several suspects and their scooters who were seen in the vicinity. 
© Photo : Metropolitan Police
Forensic 'DNA' tagging spray
Forensic 'DNA' tagging spray
© Photo : Metropolitan Police
A manhunt is now under way to trace the perpetrators. 
The spray can be used to identify stolen scooters used in crimes and also individuals if they are stopped before they have a chance to change their clothes or wash it off.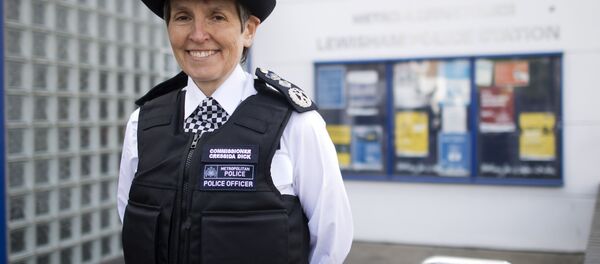 31 October 2017, 14:46 GMT
Remote-Controlled Spike Device
The Metropolitan Police also showed off a ProSpike device, a belt of spikes which can be deployed remotely, puncturing the tires of a suspect's scooter.
Met Commissioner, Cressida Dick, said there was considerable "outrage" in communities about this sort of incident and they were doing everything in their power to tackle moped-enabled crime.
​"Scooter crime has been very, very high. We are beginning to stem that rise. We have been trying to make it harder for scooters to be stolen," she told reporters on Tuesday, October 31.
In July a 31-year-old builder, Danny Pearce, was stabbed to death in Greenwich, south east London, by two men on a moped who stole his Rolex watch. Despite a £10,000 (US$13,200) reward his killers are still at large.
But Supt. Payne said 80 percent of the crimes involving scooters were non-violent. He said the gangs invariably used stolen mopeds/scooters.
Peak in Moped Thefts in London
"Thefts of scooters rose from 1,009 a month in October 2015 up to a peak of 1,598 in April 2017 and it has started to come down since then," he said on Tuesday.
He said thousands of suburban commuters had bought scooters as an alternative to expensive rail journeys into London but he said because there were so many parked in central London they were a vulnerable target to thieves, who are able to steal them by simply wrenching the handlebars to break the steering locks.
​The stolen scooters are then used by criminals, who tend to be aged in their late teens, to steal iPhones and other expensive smartphones from people as they walk down the street.
"They will snatch phones from people who are talking on them. They do that because that means the phone is unlocked and easier to sell. They can get about £200 (US$265) for an unlocked phone. But there is also a market for second hand parts so they might break up a locked phone for its parts," said Supt. Payne.
On October 11 a gang of four moped robbers were sentenced to a total of 18 years in jail for a spate of crimes in south London.
Moped Gang Stole Designer Handbags
In February this year nine men on five mopeds threw a brick through a window and stole dozens of designer handbags from a Michael Kors shop in Chelsea, west London.
Police released the footage Tuesday, and said it was possible the same gang were behind a similar attack at the House of Fraser store in Oxford Street, central London, on Thursday, October 26.
The Met also unveiled a number of lightweight BMW motorbikes it has procured specifically for chasing scooter criminals. They do not have the panniers on the side, allowing them to be more nimble and to chase scooters down alleys.
The Commissioner said the Met would continue to pursue criminals on mopeds and scooters, despite the unfortunate death of Henry Hicks, 18, in 2014.
Earlier this month several officers were cleared of misconduct in relation to his death.