What's Behind NATO Warnings
Speaking with Sputnik Turkey, Beyazıt Karataş, a retired Maj. Gen. of the Turkish Air Force and deputy chairman of the Patriotic Party (Vatan Party), suggested that Ankara's decision to buy the Russian-made missile defense system was due to the "hypocritical stance" of the United States and NATO.
"Turkey has been a NATO member since the 1950s and the country still cannot receive a long-range air defense system it needs very much from the alliance. In the current situation, buying air defense systems from the US is impossible," Karataş pointed out.
Meanwhile, Gen. Petr Pavel, chairman of NATO's Military Committee, warned of "consequences" for Turkey should Ankara buy the Russian-made weapons. The general said last week that while each nation is free to make its own defense decisions, Turkey's intention to buy the S-400 would prevent Ankara from being integrated into the NATO air-defense system and also risks other technical restrictions.
"The principal of sovereignty obviously exists in acquisition of defense equipment, but in the same way that nations are sovereign in making their decision, they are also sovereign in facing the consequences of that decision," Pavel was quoted as saying by Defense News.
According to Karataş, such "threats" are the only thing that NATO can do to Turkey and Russia amid the S-400 deal.

11 October 2017, 17:24 GMT
Commenting further, the analyst explained that Russia-Turkey's close cooperation is regarded as a danger by NATO countries, first of all by the US.
"Turkey's rapprochement with Russia was motivated by the situation in the Middle East. A crisis in bilateral relations after a Turkish jet shot down a Russian bomber in November 2015 was quickly resolved and both countries started actively building cooperation," he said, adding that this cooperation is very important both in military and economic terms.
Talking about NATO's pressure on Ankara over the S-400 deal, Karataş stressed that Turkey is a sovereign nation and no foreign country should meddle in the issue.
READ MORE: US Senator Calls for Sanctions on Turkey Over Purchase of Russian S-400 Systems
"Turkey is one of the key players in the region, and this is the reason behind this pressure," he added. "The delivery of the S-400 should be completed as soon as possible."
He warned that if the implementation of the deal is delayed "those opposing Russia-Turkey normalization could try to prevent the delivery."
What is also important, according to Karataş, is that NATO is very much concerned about the possibility of Turkey buying more Russian-made weapons after the delivery of the S-400.
"Another problem for Washington is the fact that the S-400 deal would also contribute to developing military, trade and social ties between Moscow and Ankara," he said.
Turkey, US Have Different Interests in Mideast
Turkey should develop its policy and strategy based on the implementation and protection of its national interests, according to retired Brig. Gen. Naim Babüroğlu, a Turkish military and strategic analyst.
"Turkey's national interests and its strategy in the Middle East do not coincide with that of the United States. Washington is supporting and arming the Kurdish self-defense units, an offshoot of the Kurdistan Workers' Party which is labeled by Ankara as a terrorist group. The US policy contradicts with Turkey's security. It is aimed at dividing Syria and Iraq, which has an immediate effect on the situation in Turkey," Babüroğlu pointed out.
At the same time, according to the military analyst, Turkey's interests in the Middle East correlate to Russia's policy in several aspects, in particular both Moscow and Ankara stand for preserving Syria's territorial integrity.
READ MORE: Putin: Syrian Agreements Collective Success of Russia and Turkey
Babüroğlu suggested that the S-400 deal may initiate "Turkey's complete estrangement from NATO" and there are four possible scenarios for the future relations between Ankara and the alliance.
"Turkey would become an underdog within NATO, with obstacles for alliance drills and meetings on Turkish soil; the alliance itself would stop accepting initiatives from Turkey; Turkey's position within NATO would get weaker and the country would become the weak link within the alliance; NATO members would look for an alternative for the Incirlik airbase," Babüroğlu concluded.
S-400 Deal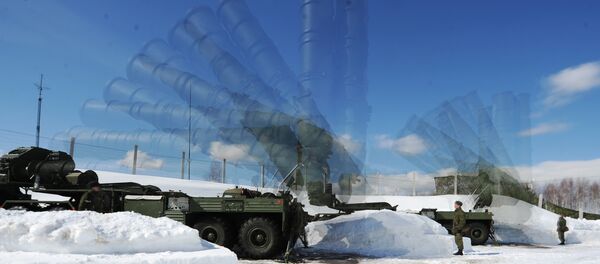 18 September 2017, 17:37 GMT
The Russia-Turkey talks on the delivery of S-400 systems started last year. On September 12 of this year, Moscow and Ankara reached an agreement on the delivery of S-400 systems to Turkey.
Turkish President Recep Tayyip Erdogan has said that Ankara had made its first payment for the air defense systems. The Kremlin confirmed receipt of the advance payment in late September.
The S-400 Triumph is Russia's next-generation mobile surface-to-air missile system carrying three different types of missiles capable of destroying aerial targets at a short-to-extremely-long range.
The system integrates a multi-functional radar, autonomous detection and targeting systems, anti-aircraft missile systems, launchers, and a command and control center.
© Sputnik
The S-400 Triumf Mobile Multiple Anti-Aircraft Missile System (AAMS)

The S-400 Triumf Mobile Multiple Anti-Aircraft Missile System (AAMS)