The US established a military base in Syria without the government's permission and banned anyone from coming within 55 kilometers; its proximity to the Rukban refugee camp may be considered a war crime, the Russian Reconciliation Center for Syria said Friday.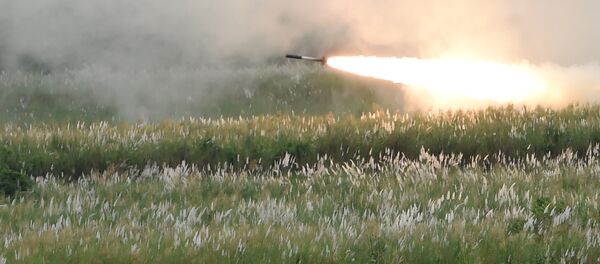 The center reports that, according to witnesses, the US has recently deployed another camp near Rukban where militants gather in order to join its latest attempt to create a so-called moderate opposition, the "National Syrian Army." The cost of recruitment in each faction is defined by the US after bargaining with field commanders, which is why income differences can be considerable among militants from different groups. On October 29, in clashes between two militant groups, thirteen refugees were killed and over twenty were injured.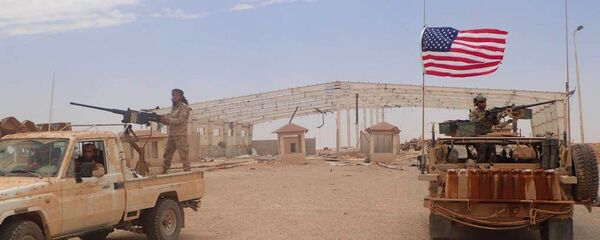 The military base was established by the US in April 2017 near the town of At Tanf on the Syria-Iraq border has also become a problem for Syrian forces fighting the terrorist group Daesh (ISIS). The United States justified the setting up of a military base there in terms of the need to carry out operations against Daesh; however, since the establishment of the base, there have been no reports of American anti-terrorist operations, according to the Russian Defense Ministry.
The spokesman of the Russian Defense Ministry has warned that refugees living in the Rukban camp are being used as a "human shield" for the US military base near At Tanf. The base has twice been used to strike Syrian government-aligned forces fighting Islamic militants.
READ MORE: US Uses Rukban Refugees as Shield al-Tanf Base in South Syria – Russian Military
The Russian Defense Ministry has also accused the United States and illegal armed groups of preventing the Syrian government from setting up a safe corridor for deliveries of humanitarian supplies for refugees in the Rukban camp in Homs province. However, Operation Inherent Resolve spokesman Col. Ryan Dillon refuted the accusation as "false" and "baseless," assuring that the coalition's partner force allowed deliveries to pass.
READ MORE: Why US Presence at al-Tanf Base in Syria Becomes Pointless, Risky Endeavor
First Deputy Chairman of the Russian upper house's Committee on Defense and Security Frants Klintsevich told Sputnik on Friday that Russia would introduce the issue of a humanitarian situation in Syria's At Tanf for the consideration of the UN Security Council adding that "future US plans to dismember Syria" were the reason behind the suffering of the refugees.