The event marks the first delivery of the Lockheed-made fifth-generation aircraft to Norway's Orland Air Force Station, where they will be permanently stationed, the Aviationist notes. The trio landed around 3 p.m. local time. The company unveiled the Norway's first F-35s at Luke Air Force Base in 2015, where they have been used for pilot training.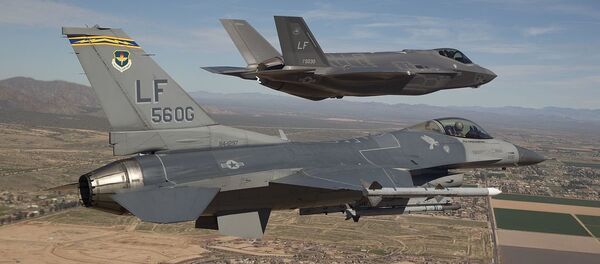 25 October 2017, 19:57 GMT
Norway will eventually field a fleet of 52 F-35s and Lockheed has agreed to deliver the aircraft at a rate of six jets per year from 2018 moving forward into subsequent years.
According to Defense Industry Daily, the competition to supply Norway with new jets came down to the F-35A and an upgraded Saab JAS 39 Gripen. The Norwegian government ultimately chose the F-35, becoming the first non-US purchaser of the jet in December 2008.
On Thursday, the Pentagon announced it had to suspend all deliveries of the F-35 from September 21 to October 20 as a result of corrosion that was found on the planes.
In addition to the US military, South Korea, Japan, Australia, Belgium, Canada, Denmark, Finland, Israel, Netherlands, Norway, Turkey and the UK are slated to deploy F-35 aircraft, according to Lockheed's corporate site.