Earlier this week, the Japanese Defense Ministry requested the US to disclose the number of accidents involving the V-22 tilt-rotor aircraft employed by American forces stationed in the country.
During a press conference in Tokyo, Japanese Chief Cabinet Secretary Yoshihide Suga said that according to the available information the number of accidents involving tilt-rotor aircraft exceeds the general accident rate of the US Air Force, adding however that the reliability of an aircraft cannot be determined by the number of accidents alone.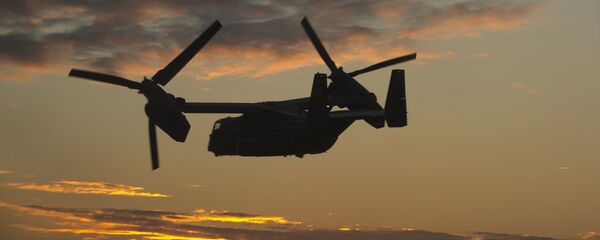 29 September 2017, 15:57 GMT
Vladimir Yevseyev, deputy head of the Institute of CIS Countries, told
Sputnik Japan
that Japanese authorities have long sought to obtain information about the US tilt-rotor aircraft reliability. And while until now this issue remained in a "suspended state", it seems that the current situation in the Korean Peninsula has finally prompted the Japanese government to make an official information request.
"Japan is concerned by the fact that North Korean Hwasong-14 ballistic missiles are being launched over its territory and the US doesn't attempt to intercept them. This situation makes Japan feel that it can demand, among other things, that the US fully discloses the information related to the tilt-rotor aircraft," Yevseyev explained.
According to him, the issue of US aircraft reliability "comes up naturally" in the face of inefficient attempts by Washington to contain North Korea.
"On the one hand, defense cooperation between the two countries is improving. On the other, Japan is beginning to realize that the US is simply afraid to try and shoot down North Korean missiles, because an unsuccessful intercept attempt would cause a serious political embarrassment and tarnish the US reputation. And at the same time, the containment policy employed against North Korea has so far failed to produce any tangible results," Yevseyev pointed out.
Earlier the US postponed the deployment of V-22 Osprey tilt-rotor aircraft at the Yokota Air Base in Tokyo. The deployment, which was originally scheduled to take place late in 2017, is now expected to take place in 2019. The Pentagon did not elaborate about the reason for this setback, according to NHK.