WASHINGTON (Sputnik) — US President Donald Trump on Monday ordered the country's flags to be flown at half-staff until Thursday, November 9, in honor of Texas shooting victims.
"As a mark of respect for the victims of this senseless act of violence perpetrated on November 5, 2017, by the authority vested in me as President of the United States by the Constitution and the laws of the United States of America, I hereby order that the flag of the United States shall be flown at half-staff at the White House and upon all public buildings and grounds, at all military posts and naval stations, and on all naval vessels of the Federal Government in the District of Columbia and throughout the United States and its Territories and possessions until sunset, November 9, 2017. I also direct that the flag shall be flown at half-staff for the same length of time at all United States embassies, legations, consular offices, and other facilities abroad, including all military facilities and naval vessels and stations," Trump's proclamation read.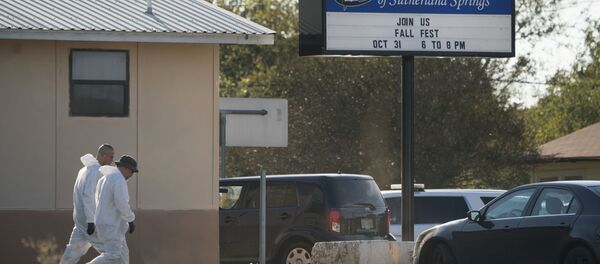 5 November 2017, 20:13 GMT
The shooting, which happened in church of Sutherland Springs on Sunday, claimed lives of 26 people, and the suspected gunman, according to local authorities.
The shooter was killed after he fled the scene. The San Antonio branch of the FBI noted that no reason has yet been discovered for the gunman's motive.