"We demand that North Korea ceases nuclear developments and returns to negotiations," Moon said after talks with US President Donald Trump, adding that Washington and Seoul agreed to continue exerting pressure on Pyongyang to achieve that.
The president also said that South Korea and the United States had reached a final agreement on lifting restrictions on the mass for South Korean missile warheads.
"A final agreement was reached on lifting all restrictions for the mass of South Korean missile warheads," he told a press conference after talks with US President Donald Trump.
READ MORE: North Korea's Dispute 'Not Going to be Resolved the Way Donald Trump Wants'
President Trump in his turn said that the US is prepared to use the full range of military force to stop a North Korean attack, but said he was focused on using "all available tools short of military action" to prevent conflict.
"North Korea is a worldwide threat that requires worldwide action," he told reporters at a joint press conference with South Korea President Moon Jae-in.
US President Donald Trump also called on all countries to implement the resolutions adopted by the UN Security Council concerning North Korea and to stop trade and business with this country.
"All nations must implement UN Security Council regulations and cease trade and business entirely with North Korea. It is unacceptable that nations would help to arm and finance this increasingly dangerous regime," Trump said at the joint press conference with his South Korean counterpart Moon Jae-in.
The US president stressed that the military solution to the North Korean nuclear crisis was not off the table.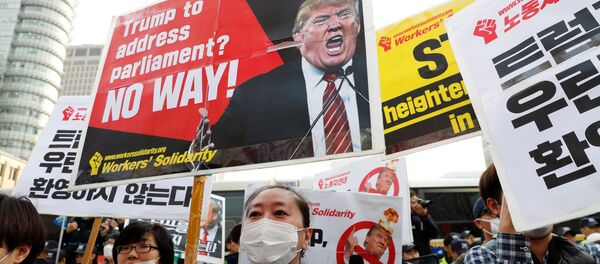 7 November 2017, 07:40 GMT
Earlier it was reported that hundreds of people had gathered in the center of Seoul to protest against US President Donald Trump's two-day visit to the country. The demonstrators blame Trump for escalating tensions on the Korean peninsula with his provocative rhetoric, forcing South Korea into buying armaments and attempting to renegotiate the free trade deal between the two countries.
On Tuesday morning, Trump landed at the Osan Air Base in South Korea's city of Pyeongtaek and headed to the US Army Camp Humphreys garrison, where he was welcomed by the troops. After the visit to South Korea, the US president will travel to China and Vietnam, where he will join the Asia-Pacific Economic Cooperation forum, and will finish his journey in the Philippines on November 12-14.