November 6 marked the official beginning of Weiner's 21-month sentence in the Federal Medical Center at Devens, Massachusetts, according to the Boston Herald.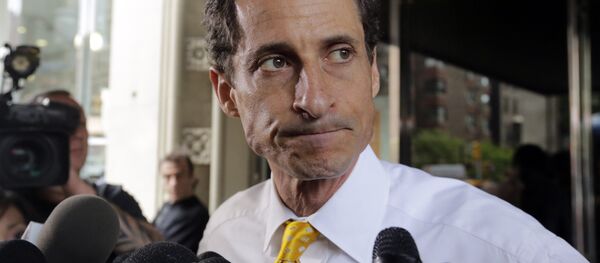 25 September 2017, 14:56 GMT
According to Weiner's lawyers, he has been housed in the prison and assigned an intense treatment program aimed at sex offenders, as a deterrent to "high-risk offenders, often with far more serious offense histories."
The lawyers argued that this measure was excessive, since Weiner's reputation is enough of a deterrent by itself.
"Simply put, no one wants to be Anthony Weiner — he is a national pariah," attorney Arlo Devlin-Brown said.
Weiner, the former husband of Hillary Clinton aide Huma Abedin, has been convicted of transferring explicit material to a 15-year-old girl.
As Sputnik reported earlier, the victim used the situation to her own advantage, selling screenshots of Weiner's messages to the Daily Mail for $30,000. Weiner's lawyers also cited a memo where the girl confessed she needed "material for a book" — one she has now written and is shopping to publishers.
Weiner's case was what led the FBI to discover the infamous "life insurance" pack of emails from Hillary Clinton to Abedin, and it was in searching for evidence in this case that FBI investigators discovered the Clinton emails overlooked in their earlier investigation of Clinton's use of a private email server while secretary of state and briefly reopened that case shortly before last year's presidential election. It is likely this discovery and the announcement that the case had been reopened contributed to Clinton's loss at the polls.
Abedin announced that she was divorcing Weiner after the scandal emerged.
"My regret for my crime is profound," Weiner told Judge Denise L. Cote of the US District Court of Southern New York in a letter.
"I have endangered the well-being of a 15-year-old girl who reached out to me on the internet. My continued acting out over years crushed the aspirations of my wife and ruined our marriage. I am so deeply sorry for the harm I have done to her, and I live with the sorrow that I will never be able to fix that," Weiner said. "I have an addiction, but I don't have an excuse."