HMEIMIM (Sputnik) — "During the videoconference, the Russian party raised the issue of the US activities aimed to prevent delivery of humanitarian aid through the 55-km zone. The parties also discussed issues of delivering humanitarian aid to al-Rukban camp and providing security to humanitarian convoys of international humanitarian organizations," the reconciliation center said in a statement.
Earlier in the day, the ministry's Center for Syrian Reconciliation participated in a video conference arranged by the UN office in Geneva. The session involved the International Syria Support Group, including representatives of the UN office in Damascus, Russian Defense Ministry and US Department of Defense, the Amman Monitoring Center and the US command grouping which controls the 55-kilometer (34 miles) zone around the US military base in Syria's At Tanf, where the Rukban refugee camp is located.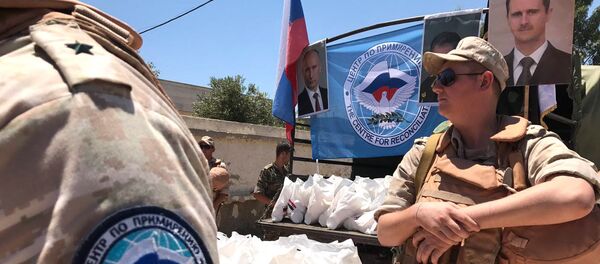 28 October 2017, 07:26 GMT
The statement specified that in accordance with the memorandum signed in Astana in May, the signatories are obligated to provide immediate and safe access for humanitarian assistance.
Syria has been mired in civil war since 2011, with government forces fighting numerous opposition factions and Islamic extremist groups. The international community has taken a number of steps aimed at settling the crisis, including different formats of talks, particularly the ones in Geneva and Astana.