WASHINGTON (Sputnik) — Boris Johnson arrived in Washington on Wednesday for two days of talks aimed at convincing US lawmakers to uphold the nuclear deal with Iran. British Foreign Secretary's trip to Washington comes on the heels of a visit on Monday and Tuesday by European Union foreign affairs chief Federica Mogherini, who also spent two days on Capitol Hill trying to convince US lawmakers to uphold the nuclear agreement with Iran.
"It took thirteen years of tireless diplomacy between the UK, US, our European partners and Iran to make the world a safer place. Now is not the moment to put that at risk," Johnson said.
The top British diplomat emphasized that the deal was working and had resulted in Iran turning over 95 percent of its uranium stockpile.
"Supporting the nuclear deal does not mean we should not call out and take action against disruptive Iranian behavior elsewhere," Johnson was quoted as saying in the United Kingdom's Foreign Office statement at the start of his two-day visit to Washington on Wednesday. "However, it is vital that we do not conflate the issues on which we should rightly condemn Iran and a deal which is neutralizing the threat of a nuclear-armed Iran."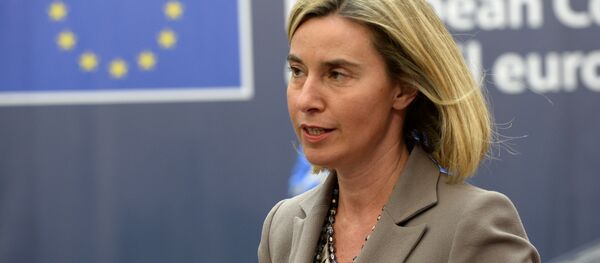 7 November 2017, 15:15 GMT
The UK Foreign Secretary was scheduled to meet with US House of Representatives Speaker Paul Ryan, Senate Majority Leader Mitch McConnell, House Majority Leader Kevin McCarthy and the chairmen and raking members of the Senate Foreign Relations and House Foreign Affairs Committees, among other lawmakers, the Foreign Office said.
Johnson posted a photo of his meeting with McCarthy on Twitter, saying it was "great to catch up" with the Republican leader about maintaining the Iran deal, confronting North Korea and ensuring the success of Brexit.
​Ranking Member of the US House Committee on Foreign Affairs Eliot Engel said his meeting with Johnson on Wednesday dealt with the nuclear deal and also touched on the need to rein in Iran's destabilizing activities in the Middle East.
The talks underscored "the importance of strictly enforcing the Joint Comprehensive Plan of Action while also holding the Iranian government accountable for its support for terrorism, development of ballistic missiles, and other destabilizing activities," Engel's office said in a statement.