"Now, at the moment the [time] of the meeting is being agreed upon, it will be on the 10th," Kremlin aide Yury Ushakov told reporters when asked whether the date for the meeting was decided upon.
The leaders are expected to meet on the sidelines of the APEC Economic Leaders' Week that will be held on November 6-11 in the Vietnamese coastal city of Da Nang, bringing together high-level delegations from member countries.
READ MORE: Trump Says May Meet Putin at APEC Leaders' Meeting in Vietnam
Putin and Trump have held their first long-awaited official meeting on the sidelines of the G20 summit in Hamburg on July 7 and have talked for more than two hours instead of scheduled half an hour. The agenda of the taks included the crises in Syria and Ukraine, the fight against terrorism and a new framework to deal with cyber threats.
Putin's Scheduled Meetings on APEC Sidelines
Earlier, Ushakov said that Putin and Trump will discuss the situation in Syria and the on the Korean Peninsula, as well as bilateral relations.
According to the president's aide, during the APEC summit, Vladimir Putin will also hold separate bilateral meetings with leaders of China, Japan, Vietnam and the Philippines.
Putin regularly meets with the Chinese leader, Ushakov said, noting that this time the meeting "will be interesting also because today Xi Jinping meets with [US President Donald] Trump, the assessments of these negotiations will be, of course, very useful for us".
© Sputnik /
2017 APEC Forum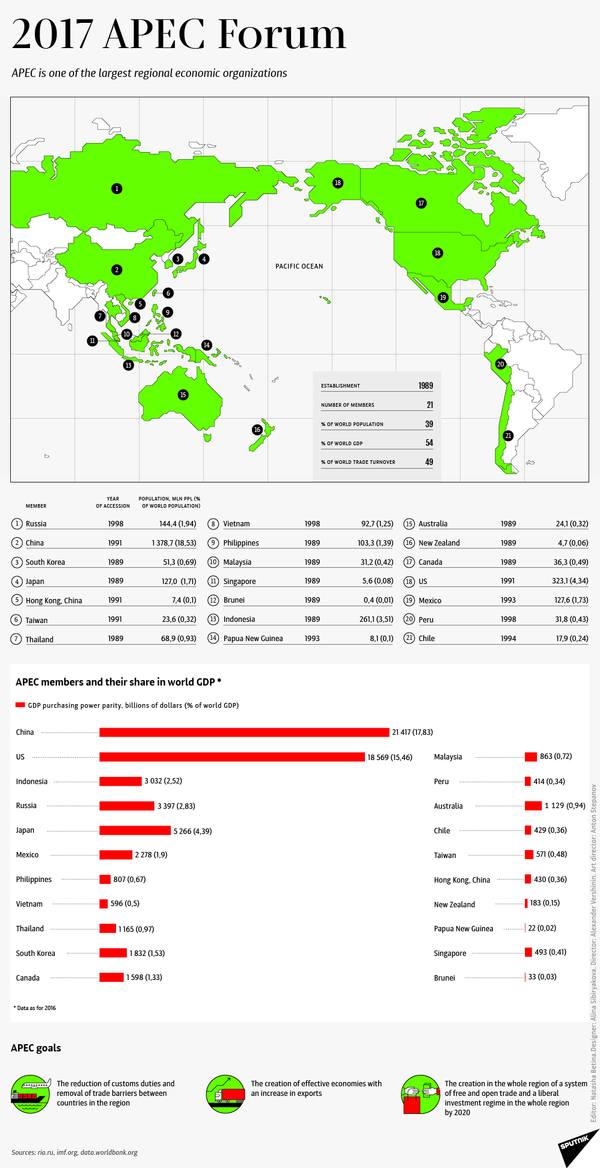 2017 APEC Forum