Prosecutors involved with the bribery and money laundering case are currently working out the details to an indictment for Israeli Prime Minister Benjamin Netanyahu, a wealthy businessman whose collaborators have been tied to the notorious Panama Papers that reveal how the rich hide assets from tax collectors, cited by Haaretz.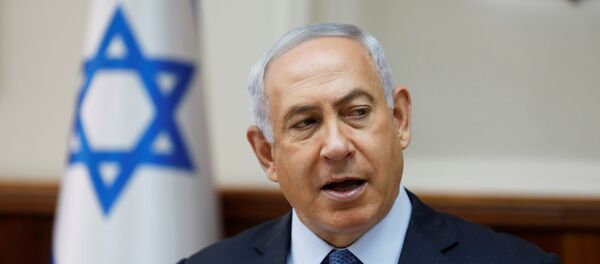 10 November 2017, 08:51 GMT
According to a Friday report by Israel's Channel 10 News, sources involved in the ongoing investigation have revealed that there is now sufficient evidence to charge Netanyahu and his wife with bribery for accepting tens of thousands of dollars worth of gifts from well-heeled business associates.
Netanyahu and his wife Sara have been accused of stipulating gifts from Hollywood movie production bosses, in the form of cigars, jewelry and alcoholic beverages, in exchange for favorable treatment and access to decision makers over a period of many years.
A day prior to Friday's revelation saw Netanyahu questioned for four hours — his fifth interrogation in the ongoing investigation — and, according to reports, investigators will seek two additional questioning sessions to clarify the nature of the charges against the embattled politician.
Included in the investigation are accusations that Netanyahu — the country's 9th prime minister and the first to be born on Israeli soil — demanded that then-US Secretary of State John Kerry expedite US visas for friends; facilitated the sale of an Israeli media outlet to a business associate under favorable terms, and received a large block of tickets to a performance by US pop star Mariah Carey through an Australian intermediary in exchange for advantageous business terms, according to Haaretz.