Syrian MP Muhannad al Haj Ali told Sputnik Arabic that the joint statement on Syria issued by Russia and the US essentially means that Moscow is allowing Washington "to exit Syria without a crushing defeat and to save face."
"Syria needs to continue conducting military operations and to deal with the Kurdish issue. It should be noted that not all Kurds seek to secede, so it is important to distinguish between separatists and those loyal to the government," the MP explained.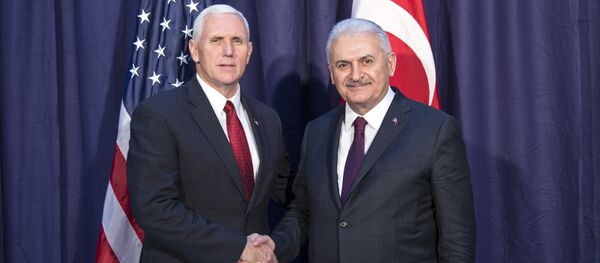 10 November 2017, 12:53 GMT
Russian journalist Andrei Ontikov also added that the US won't abandon its attempts to achieve either federalization or the division of Syria, as indicated by Washington's ongoing support of the Kurdish forces in the country under the pretext of anti-Daesh campaign.
He pointed out however that Russia continues to insist on maintaining Syria's territorial integrity, and that Damascus will likely be able to grant Kurds and other ethnic minorities the kind of rights that would render the US unable "to put pressure on them or to tempt them with the prospects of secession."
READ MORE: Where the Syrian Army Will Head Next After Liberation of Abu Kemal
According to Ontikov, the meeting between the US and Russian leaders is very important as with Syria being on the verge of complete victory over Daesh, "everyone wonders how the situation will develop next": will the situation be resolved by political means or will a new war, between Damascus and the Syrian Democratic Forces, break out?
"Russia made many concessions for the sake of peaceful resolution (of this crisis), but it always insisted on maintaining Syria's sovereignty. Russia does not demand any concessions from the US, but does insist on political resolution of the Syrian crisis," the journalist surmised.
Russian President Vladimir Putin and US President Donald Trump approved a joint statement during their meeting at the APEC summit in Vietnam on November 11.