Fraud in the UK charity sector increased by US$525 million in the 12 months to November 2017, and is now worth around US$3 billion annually, annual estimates published by accountancy firm Crowe Clark Whitehill have suggested.
​The firm, which conducted the research in conjunction with credit rating agency Experian and the University of Portsmouth's Center for Counter Fraud Studies, that a large increase in procurement fraud — to almost US$1.6 billion —  was the primary driver, although payroll fraud also increased by US$5.3 million to US$1.3 billion. Grant fraud nonetheless fell by US$45 million to US$210 million.
In all, fraud in the sector accounts for 1.2 percent of the total estimated annual fraud in the UK, which totals US$250 million — the overall figure dwarfs previous estimates offered by the UK government, which in 2013 put the figure at around US$65 billion.
In average terms, this would mean each adult in the UK is defrauded to the tune of US$5,120 every year, and almost US$8,000 is lost every second to fraud, although the figures could well be higher, as fraud is a significantly underreported crime.
​The publication highlights new technology has been thoroughly exploited to perpetrate fraud in all sectors, with online banking fraud growing 226 percent and telephone banking fraud 178 percent in the past 12 months.
High Profile Cases
A number of major charity fraud cases have made headlines in 2017. For instance, in July, a US$650,000 "vishing and smishing" fraud against Highland Hospice in Scotland was revealed. Staff received calls from individuals claiming to work for their banks and telling them their accounts had been compromised.
That same month, Bury Hospice fell victim to a "sophisticated" fraud in July involving an online virus check that resulted in the charity losing US$310,000.
In November, serial fraudster Anh Nhu Nguyen was convicted of false representation after claiming his wife and son were killed in the notorious Grenfell Tower blaze in West London, in an attempt to pocket funds donated for victims of the disaster.
​His fraud was particularly notable, as he appeared beside Prince Charles during a visit to Grenfell, and gave television interviews posing as a survivor of the blaze, in which at least 80 died. Neither he nor his wife and child had ever lived in the building — but he still received US$16,500 from charities and Kensington and Chelsea council, along with accommodation in a hotel, clothing, food and electrical items and money.
However, there are suggestions apparently legitimate organizations within the UK charity sector may be effectively defrauding donors.
A December 2015 study conducted by True & Fair, a foundation led by renowned Brexit campaigner Gina Miller, indicated 1,020 voluntary organisations in the UK — with a combined annual income of US$8 billion — spent half or less of their income on charitable work, with nearly 300 spending but 10 percent.
© AP Photo / Matt Dunham
Entrepreneur Gina Miller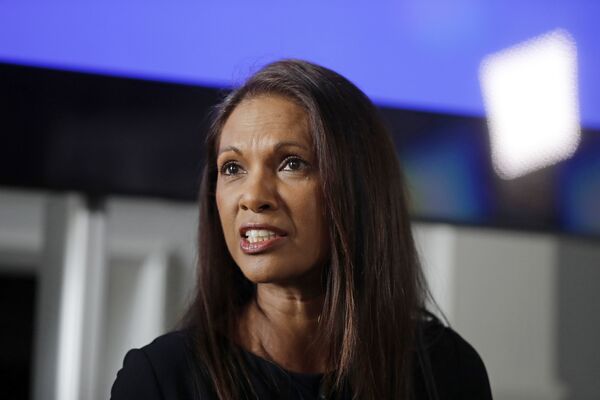 Entrepreneur Gina Miller
17 of the UK's largest charities — with annual incomes of US$65 million or more — spent an average of just 43 percent on good work. While Cancer Research UK and Guide Dogs For The Blind spent 64 percent of their respective incomes on charitable activities, and cancer charity Marie Curie 65 percent, the British Heart Foundation spent an average of just 46 percent of its cash on good work — while Age UK gave 48 percent.
"It is an utter disgrace that so much of the money people generously give is going to feed large charity machines, which are often characterized by obscene overheads and salaries, aggressive fundraising, and bloated marketing and publicity departments; resulting in questionable levels of charitable spending," said Miller in a statement.