"I believe that [North Korea] continues to develop its weapons," Abe told reporters, later adding that it was far too early to initiate talks with Pyongyang. "There is no point for talks for the sake of talks."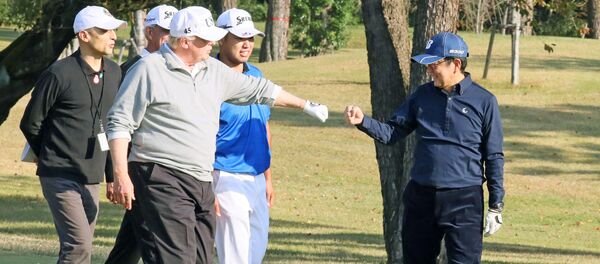 10 November 2017, 11:26 GMT
Rather than trying to prod Pyongyang into a dialogue format it doesn't want, Abe suggested that only tougher sanctions could put North Korea in a talking mood.
According to a draft joint statement obtained by Kyodo News Tuesday, Abe told the ASEAN Plus Three (ASEAN nations and China, Japan and South Korea) leaders to urge North Korea to "stop provocative and threatening actions [to create] conditions conducive for dialogue." Officials were also expected to tell North Korea to comply with all UN Security Council Resolutions so that a "complete, verifiable, and irreversible denuclearization of the Korean Peninsula in a peaceful manner" could take place.
But not everyone is on the same page as Japan in wanting to further weaken the North through sanctions. China, unlike Japan, has a strong influence in the region and has long been an advocate for talking with Pyongyang.
That fact isn't lost on Abe, who said he'd initiate a "fresh start" with the mainland regarding North Korea during a meeting with the Chinese President Xi Jinping at the APEC summit.
The 63-year-old politician announced at the Tuesday conference that he would partner with China and Russia to coax the regime to stop all testing and shut down its nuclear weapon goals.
North Korea, which has fired off several missile tests this year, sparked outrage in Japan after launching a rocket that passed over the Land of Rising Sun's northern Hokkaido Island in September.