"Moscow has paid attention to the statements of UK Prime Minister Theresa May regarding Russia, which were made during the Lord Mayor's Banquet on November 13. This time our country is placed not at the same level as other challenges, but at the first place on the scale of 'threats to global society' … The theses are not new, but united by the same irresponsible and groundless nature of accusations made against Russia," the Russian Foreign Ministry said in a statement on Tuesday.
The ministry's spokeswoman, Maria Zakharova, noted that the United Kingdom was also seeking a global leadership in the issue of deterring Russia, which was rather cynical considering the country's aggressive actions in Iraq and Libya.
READ MORE: May's Attack on Russia 'Attempt to Demonstrate UK's Importance' on World Stage
The idea of protecting the international order, voiced by the UK Cabinet's head, sounds particularly cynical. One should just remember the aggressive actions of the United Kingdom in Iraq and Libya, which led not to the strengthening of international laws, but to causalities and suffers from millions of people and destabilizations of entire regions. Nevertheless, London demonstrates a fundamental misunderstanding of global processes and the idea of the international legal order itself, based upon the UN Charter, which the United Kingdom vows to protect," Zakharova stressed.
© REUTERS / Peter Nicholls
Britain's Prime Minister Theresa May listens to a speech at the Lord Mayor's Banquet at the Guildhall, in London, Britain November 13, 2017.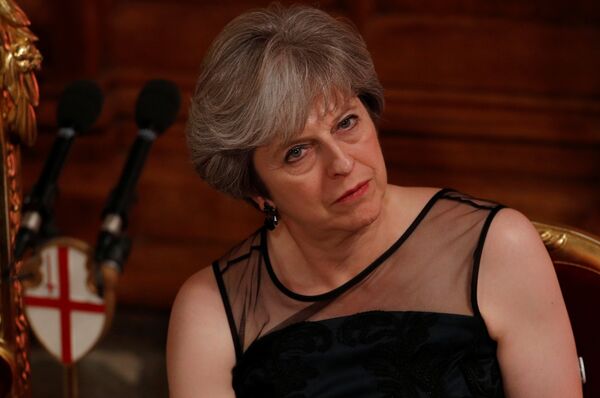 Britain's Prime Minister Theresa May listens to a speech at the Lord Mayor's Banquet at the Guildhall, in London, Britain November 13, 2017.
According to the spokeswoman, the UK society is going through difficult times due to the country's withdrawal from the European Union and internal split on the issue.
"It is quite understandable that an external enemy, with Russia chosen for this role, is needed for the distraction of the public opinion. It is rather regrettable, especially given that pragmatic and efficient global policy would better correspond to the country's ambition to turn into 'Global Britain.' Such course would have given the United Kingdom new opportunities on rapidly growing markets, strengthened its positions in the world through enhancing dialogue with other countries. The path of confrontations chosen by London would not contribute to achieving these goals," Zakharova said.
READ MORE: Russian Foreign Ministry Trolls Theresa May on Twitter
Russia has repeatedly refuted accusations of attempts to influence the election or political processes in different countries, with Kremlin spokesman Dmitry Peskov calling the claims "absolutely groundless." Commenting on the alleged Russia's interference in the US, French and German elections, as well as Brexit referendum in the United Kingdom, Russian Foreign Minister Sergey Lavrov stressed that there was no evidence proving the claims.