STRASBOURG (Sputnik) — The exhibition contains the work of almost 50 photos by war photojournalists from the Russian media outlets, including Sputnik News Agency and Radio and the All-Russia State Television and Radio Broadcasting Company (VGTRK).
The photos show the Syrian military conflict through the prism of both ordinary people's lives and the activities of the military: the life of military pilots at the Russian Hmeimim airbase as well as the work of the Russian Aerospace Forces during the anti-terrorist operation.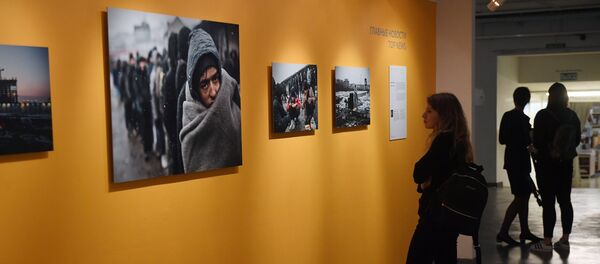 7 November 2017, 18:30 GMT
The display features photos by renowned photojournalists from Sputnik, including Valery Melnikov, Ilya Pitalyov, Mikhail Alaeddin and Mikhail Voskresensky, as well as by cameramen of the VGTRK camera crew, including Viktor Prikhodko and Alexander Pushin, made during the height of the military conflict in Syria in 2015−2016.
Meanwhile, the photo display is part of the exhibition's international tour in Russia and abroad, which began at the Russian State Duma in Moscow in January 2017. In April, the exhibition was shown to residents and guests in Bucharest, and in May it went to Vienna.