ANKARA (Sputnik) — On Thursday, Syria's Permanent Mission to the United Nations reported that it had sent letters saying that US-led coalition had ensured withdrawal of Daesh terrorists from Raqqa and Deir ez-Zor.
The BBC broadcaster reported that the drivers hired by the SDF were forced to evacuate about 250 Daesh jihadists and some 3,500 members of their families from Raqqa in a convoy consisting of about 50 trucks, 13 buses and more than 100 vehicles of Daesh itself in October. The jihadists, including the foreign mercenaries from Azerbaijan, China, Egypt, France, Pakistan, Saudi Arabia, Tunisia, Turkey and Yemen, had taken from Raqqa everything they could, including weapons and munitions.
"It is an extremely grave and eye-opening revelation that the so-called "Syrian Democratic Forces" dominated by PYD/YPG, the Syrian extension of the terrorist organization PKK, brokered a deal with the terrorist organization Daesh to evacuate a large number of Daesh terrorists from Raqqa while the operation to clear Daesh from Raqqa was already underway," the statement said.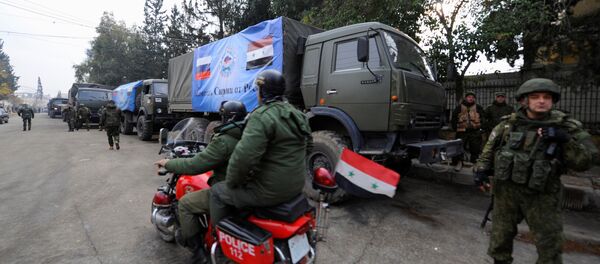 15 November 2017, 00:28 GMT
According to the ministry, deal sets a new example of the fact that "fighting one terrorist organization with another would eventually result in these terrorist organizations colluding with each other."
Last month, the SDF announced the complete liberation of Raqqa, which was seized by daesh in 2014 and proclaimed the group's capital.
Ankara considers the Kurdish People's Protection Units (YPG) to be affiliated with the Kurdistan Worker's Party (PKK), which is listed as a terror group in Turkey, the United States and the European Union. However, the Syrian Kurdish Democratic Union Party (PYD) and the YPG, as well as the SDF have been receiving support from the United States in fighting Daesh.