Venezuela signed a deal in Moscow on Wednesday, November 15, about restructuring US$3.15 billion of debt to the Russian government. Venezuela's economy has been hit by tumbling oil prices and US sanctions.
Russia and China are Venezuela's biggest creditors with total liabilities of around US$8 billion and US$28 billion respectively.
Venezuelan finance minister Simon Zerpa and Vice President Wilmar Castro Soteldo signed the deal, which gives Caracas a six-year breathing space.
"These are very favorable terms that Venezuela can honor. This deal strengthens the relations between our two countries," Mr. Soteldo said in Moscow.
Venezuela's minister of finance, Simon Serpa, and minister of agriculture Wilmar Castro Soteldo sign a debt restructuring deal with Russia. pic.twitter.com/Z2PZyvFHk8

— teleSUR English (@telesurenglish) November 15, 2017​
Missed US$200 Million Payments
Gustavo Angel, sovereign expert at RAEX Europe, said although the deal signed in Moscow helped, it did not greatly reduce the risk of President Nicolas Maduro's government defaulting.
Mr. Angel said the default risk came because Venezuela had delayed payment of US$200 million coupon payments on bonds which were due to mature in 2019 and 2024.
"In my view Russia or China are not as risky debt holders as the institutional investors — Goldman Sachs, Blackrock and others. Institutional investors bought Venezuelan bonds in representation of its clients and will make the restructuring process of the debt more cumbersome because Venezuela has to convince more individual parties which have very different investment strategies," Mr. Angel told Sputnik.
He said that happened with Argentina in 2014, when the whole restructuring process failed and the country went into default after a small minority — three percent — of bondholders refused to accept new conditions.
Beware 'Vulture Fund' Investors
What were known as "vulture fund" investors demanded a full pay-out of the US$1.3 billion worth of Argentinian bonds they held.
On Wednesday, S&P Global Ratings said it had placed PDVSA in "selective default" for failing to make the US$200 million payments, joining Fitch who downgraded Venezuela earlier this month.
Mr. Angel said Venezuela owes a total of around US$150 billion, which was a mixture of government bonds and bonds in the national oil company, PDVSA, with Venezuela's oil reserves held as collateral for the debt.
© Sputnik / Aleksey Nikolskyi
 / Go to the mediabank
Russian President Vladimir Putin meets in the Kremlin with Nicolas Maduro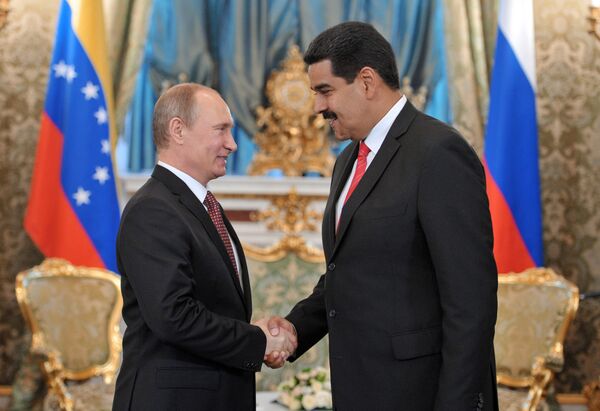 Russian President Vladimir Putin meets in the Kremlin with Nicolas Maduro
© Sputnik / Aleksey Nikolskyi
/
Several major US companies and pension funds had bought these bonds, including Fidelity Investments (US$572 million), T. Rowe Price (US$370 million), Black Rock iShares (US$222 million) and Goldman Sachs (US$187 million). 
Venezuela has only US$9.7 billion in foreign reserves left and needs to pay back US$1.47 billion in interest on various bonds by the end of the year and another US$8 billion next year.
The Chinese Foreign Ministry said on Wednesday they had confidence Caracas could "properly handle" its debt crisis.
"Over a period of years, Venezuela has borrowed billions of dollars from Russia and China, primarily through oil-for-loan deals that have crimped the country's hard currency revenue by requiring oil shipments to be used to service those loans," explained Mr. Angel.
"As mentioned with Russia, a potential restructuring of the Chinese debt with Venezuela can alleviate Venezuela's problem. However, the main problem of Venezuela remains on the debt servicing expenses, the low amount of reserves at the central bank and the restructuring of the debt with institutional investors," he told Sputnik.
World's Highest Oil Reserves
Mr. Angel said there was some good news for Caracas. 
"Venezuela has more than enough oil reserves to repay its debts. In fact, Venezuela is the country with the largest reserves of oil in the world with 300 billion barrels, more than Saudi Arabia which holds 269 billion barrels," Mr. Angel said.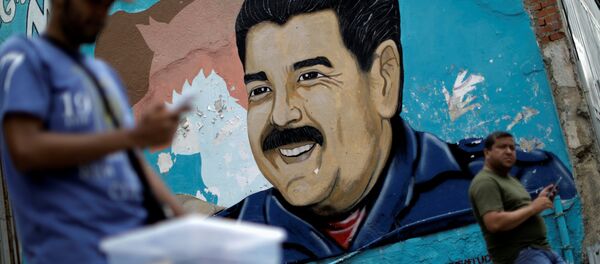 14 November 2017, 23:35 GMT
"The problem of Venezuela has nothing to do with its proved reserves of oil, but with production of oil, for which the country has been lagging behind for years. Since Hugo Chavez came to power in 1999, a large stake of the country's oil company profits were used to financial social programs and very little was allocated for investment in the oil industry. Crude oil production of Venezuela amounted to 1,955 barrels per day in October 2017, well below that of Saudi Arabia which produced 10,056 barrels per day. This represents for Venezuela the lowest production of oil since 1989, when production reached 1,905 barrels per day," Mr. Angel told Sputnik.
Weighed Down by Sanctions
He added that much of Venezuela's problems stemmed from the sanctions which had been imposed by the US, the Organization of American States, Mercosur, the European Union, and some banks like Commerzbank and Deutsche Bank.
"The current default position of Venezuela could potentially encourage the Venezuelan government to look for a transition towards consensus with the country's opposition party and other countries and blocs in the region… the boundaries of the executive, legislative and judicial branches are not clear and this harms confidence of investors in the country," Mr. Angel concluded.