After days of tension the army has taken over in Zimbabwe, but has given assurances that one of Africa's longest serving rulers, 93-year-old President Robert Mugabe, is safe and well.
The army has denied it is a "coup," but there are reports Mr. Mugabe's wife Grace, 52, has fled to neighboring Namibia and other members of a faction which supported her are in detention.
LSK Makani, a Zimbabwean tech entrepreneur who works with the Pindula political website, said it was difficult to predict what was likely to happen in the next few days.
"It's hard to say what is going to happen next. Everything is happening quite fast. It's hard to predict what is going to happen next, but the army has assured people that it doesn't want to usurp power and they are not interested in helping the president in any way," he told Sputnik.
South African President Speaks to Robert Mugabe
Mr. Makani said the South African President, Jacob Zuma, had spoken to Mr. Mugabe and been assured he was fine.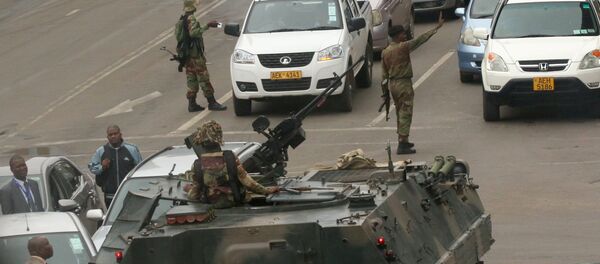 15 November 2017, 15:35 GMT
He said the events of the last 24 hours appeared to have been the climax of a power struggle between two cliques, the G40 and the Lacoste faction, within the ruling ZANU-PF party.
The G40, or Generation 40, are so-called because they are younger politicians who were uncomfortable with a Zimbabwean law which does not allow anyone below the age of 40 from being a presidential candidate while the Lacoste faction get their name because they support Emmerson Mnangagwa, known as The Crocodile, who shares a logo with the French fashion label.
On Monday, November 13, the army chief, General Constantino Chiwenga, threatened action against those within ZANU-PF who were "purging" supporters of Mr. Mnangagwa, who had been sacked as vice president.
Jonathan Moyo Was Brains Behind G40 Faction
Mrs. Mugabe and Finance Minister Ignatius Chombo were key members of G40, but the brains behind it were ascribed to Higher Education Minister Jonathan Moyo, who is understood to be under arrest.
In a broadcast on Wednesday, November 15, Major General Sibusiso Moyo referred to "criminals" who surrounded the president, but said Mr. Mugabe and his family were "safe and sound and their security is guaranteed."
© AP Photo / Tsvangirayi Mukwazhi
Zimbabwean first lady Grace Mugabe addresses party supporters at an event on the outskirts of Harare, Friday, Feb. 17, 2017.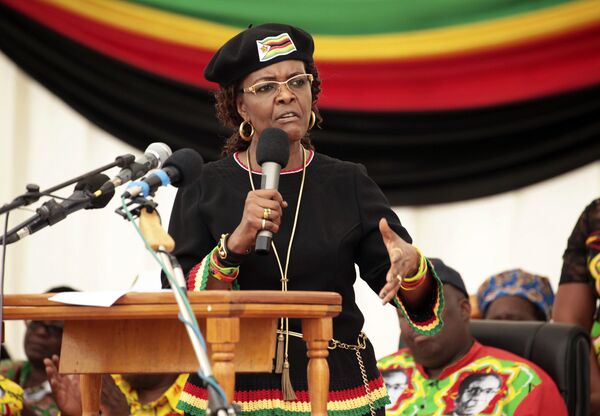 Zimbabwean first lady Grace Mugabe addresses party supporters at an event on the outskirts of Harare, Friday, Feb. 17, 2017.
© AP Photo / Tsvangirayi Mukwazhi
Mr. Makani said Mrs. Mugabe had denounced Mr. Mnangagwa recently at a number of rallies.
"She would speak at these rallies and would castigate Emerson Mnangagwa, calling him a traitor, calling him a factional leader and a successionist and that he was looking to succeed Mr. Mugabe unconstitutionally," Mr. Makani told Sputnik.
He said most Zimbabweans had gone to work as normal and the streets of Harare were quite calm, with tanks and troops only outside the parliament and a few government buildings.
Zimbabweans Discuss Future on Social Media
Mr. Makani said there was a lot of discussion on social media about the future of Zimbabwe.
"The conversations on social media, one-on-one, are about the possibilities for change. President Mugabe has been leading the country since 1980 as prime minister and then president so there is a lot of anticipation about what this means in general and how it will impact on people's ordinary lives but people are going about their business," Mr. Makani told Sputnik.
There has also been an outbreak of viral jokes and memes about Mrs. Mugabe, who was arrested in South Africa in August for allegedly assaulting a young woman who had been cavorting with one of her sons.
Mr. Mugabe and his great rival Joshua Nkomo led a guerrilla struggle against white rule in what was then Rhodesia during the 1970s.
Mr. Mugabe's guerrilla force ZANLA, which represented the majority Shona tribe, became ZANU-PF while Mr. Nkomo, from the smaller Ndebele tribe, led the ZIPRA rebels, who became the ZAPU opposition party.
We are witnessing the end of Robert Mugabe. He has been asked to step down. And road to Inkomo barracks has been closed. The end is here now.
pic.twitter.com/9lpR8V1Wjf
Mr. Nkomo died of cancer in 1999 and ZAPU merged into ZANU-PF.
Mr. Mnangagwa was a ZANLA commander, as were many members of the Lacoste faction.​